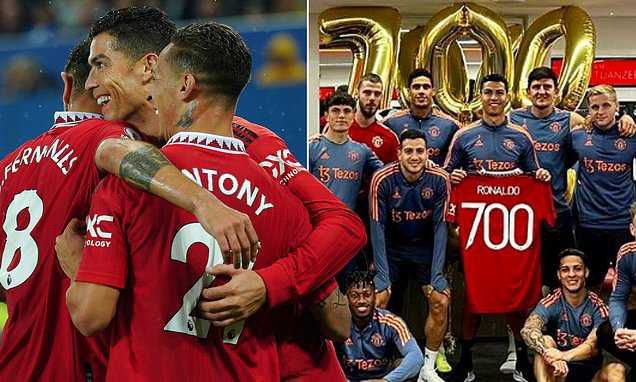 Manchester United today presented Cristiano Ronaldo with a special shirt to work his 700th club goal, MySportDab reports. 
The Portuguese reached the record with a goal in Manchester United's 2-1 win at Everton on Sunday.
To celebrate the record, Ronaldo got a shirt with his name and the number 700.
There were also big golden balloons spelling out '700' in the dressing room as the Manchester United squad posed with him for a nice picture.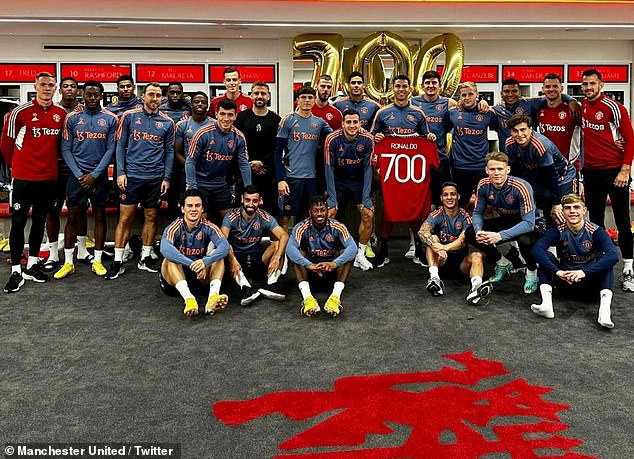 United's official shared a tweet today and wrote:
Congratulations, @Cristiano — from everyone at United ❤️#MUFC pic.twitter.com/3IFrusQmUG

— Manchester United (@ManUtd) October 10, 2022
Ronaldo on Monday afternoon said: 'What a beautiful number! Thank you to my teammates, coaches, clubs, family & friends and my fans. Now we continue.
The tweet included a picture of Ronaldo at the four clubs of his football career: Sporting Lisbon, Real Madrid, Juventus and Manchester United.
Ronaldo's goal at Everton was just his first goal in the Premier League this season.
𝟕𝟎𝟎 𝐜𝐥𝐮𝐛 𝐠𝐨𝐚𝐥𝐬.
What a beautiful number we've achieved together!
Thank you to all my teammates, coaches, clubs, family & friends and of course my fans.
United we continue! 🙏🏽 pic.twitter.com/oYWo766Xcl

— Cristiano Ronaldo (@Cristiano) October 10, 2022
Everton Coach Frank Lampard praise the 37-year-old after the match: 'It is stunning.
'He's definitely one of the greatest players of the game, in an era when we have had himself and Lionel Messi.
'The comparison is irrelevant; they are both incredible players in football history.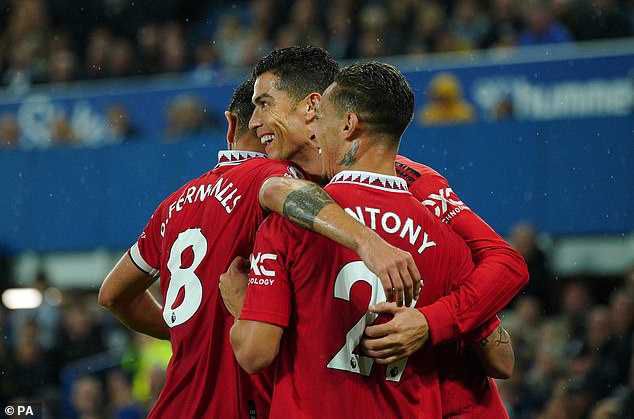 'What they have achieved is absolutely abnormal. At 699, I wanted him to score in the Europa League but it didn't happen.'
The 2-1 Everton win moved Manchester United into fifth on the Premier League table and one point behind Chelsea.