Football
FT: Barcelona 3-3 Inter Milan, Lewandowski Brace Rescue Barca (VIDEO HIGHLIGHTS)
Robert Lewandowski scored a brace as Barcelona were held to a 3-3 draw against Inter Milan, MySportDab reports. 
First Half Report  
The first half of the encounter wasn't far from both teams who had a fair share of opportunities, but only one side was able to make good use of just one.
Inter Milan started well knowing they claimed a win in the first leg of the encounter which happened in Italy between the two of them as the game carried on.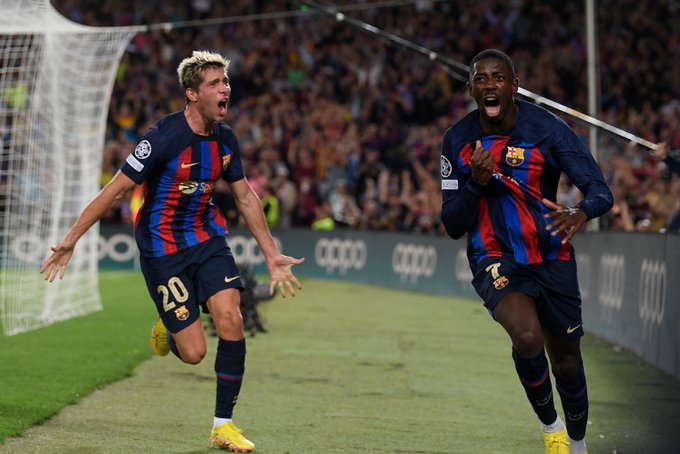 It was looking fine for Barcelona also as they did a fine job at the back while also causing so much troubles upfront but the goals weren't coming for them as they needed it badly.
Ousmane Dembele finally gave the home side the lead in the 40th minute of the game after a nice buildup which saw Sergi Roberto making the assist as it turned 1-0.
That goal was the only action and talking point as the first half of the game came to an end with Barcelona heading into the break with a 1-0 lead against Inter Milan.
Second Half Report
They both had a wonderful second half which saw a lot more happening between them mostly for the away side who had their chances to make something happen.
Inter Milan wasted no time in drawing level in the match as Nicolo Barella scored a shocker which came out of nowhere to make the scoreline 1-1 for his side in the 50th minute.
Barcelona were stunned by the leveler which saw them rebuilding from scratch once again to make sure they find a way of taking the lead didn't happen as they approached the one hour mark.
Lautaro Martinez scored in the 63rd minute of the match for the away side who shockingly took the lead 1-2 as they continued to press for more to come.
Robert Lewandowski leveled the scoreline in the 82nd minute to 2-2 after another wonderful teamwork effort saw the Poland International making his mark.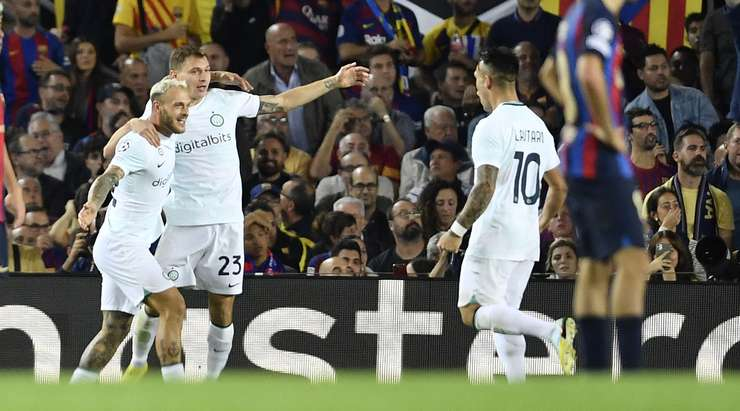 Robin Gosens scored in the 89th minute of the game to give his side the lead 2-3 but it wasn't meant to be as Robert Lewandowski hit back in the 90th plus additional time to make it 3-3.
The game ended with Barcelona saving one points from an exciting match which saw them being held to a 3-3 draw against Inter Milan.
Watch Highlights Below:
Barcelona 1-0 Inter

⚽ 40' Dembele 🅰️ Sergi Roberto#UCL #ChampionsLeague #FCBINT #FCB #INT #FCBarcelona #Inter #Barcelona #Barcapic.twitter.com/eN4iuaepRL

— Social Football #UCL #ChampionsLeague (@S0CIALF00TBALL) October 12, 2022
2nd GOAL
Barcelona 1-1 Inter

⚽ 50' Barella 🅰️ Bastoni#UCL #ChampionsLeague #FCBINT #FCB #INT #FCBarcelona #Inter #Barcelona #Barcapic.twitter.com/KmbFtzbdLa

— Social Football #UCL #ChampionsLeague (@S0CIALF00TBALL) October 12, 2022
3rd GOAL
Barcelona 1-2 Inter

⚽ 63' Lautaro Martinez 🅰️ Hakan#UCL #ChampionsLeague #FCBINT #FCB #INT #FCBarcelona #Inter #Barcelona #Barcapic.twitter.com/kZYFi97JCi

— Social Football #UCL #ChampionsLeague (@S0CIALF00TBALL) October 12, 2022
4th GOAL
Barcelona 2-2 Inter

⚽ 82' Lewandowski#UCL #ChampionsLeague #FCBINT #FCB #INT #FCBarcelona #Inter #Barcelona #Barcapic.twitter.com/MexPjYr4Xu

— Social Football #UCL #ChampionsLeague (@S0CIALF00TBALL) October 12, 2022
5th GOAL
Barcelona 2-3 Inter

⚽ 89' Gosens 🅰️ Lautaro Martinez#UCL #ChampionsLeague #FCBINT #FCB #INT #FCBarcelona #Inter #Barcelona #Barcapic.twitter.com/1PyePsZalw

— Social Football #UCL #ChampionsLeague (@S0CIALF00TBALL) October 12, 2022
6th GOAL
Barcelona 3-3 Inter Milan

LEWANDOWSKI EQUALIZES IN THE 92ND MINUTE!!!!!#BarcaInter || #ChampionsLeague || #BARINTpic.twitter.com/vhOTfflQOC

— iR Sport (@iRSport_) October 12, 2022