Football
Frenkie De Jong: Barca President Joan Laporta HITS Back At Gary Neville! (Details)
Barcelona President Joan Laporta has hit back at Gary Neville over his comments and suggestion on Frenkie De Jong, MySportDab reports.
Gary Neville has reportedly advised the Dutch international to sue the Spanish giants over his unpaid wages.
Barcelona are reportedly owing the former midfielder the sum of £17m but have gone ahead to land significant signings this summer.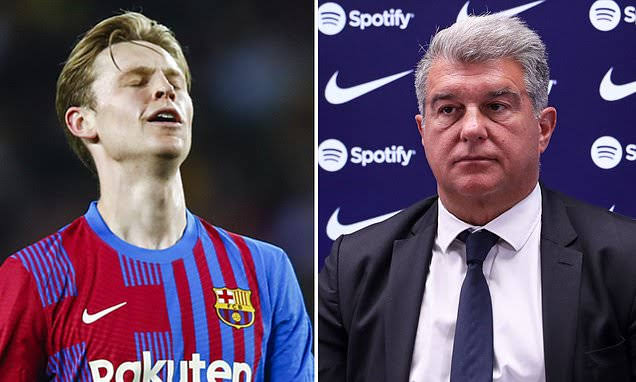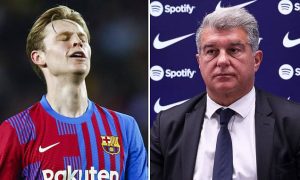 Barcelona have top players with huge sums of money, including the likes of former Bayern Munich ace striker Robert Lewandowski.
READ ALSO: BREAKING! Man United Dealt Final Blow On Frenkie De Jong! (FULL DETAILS)
Gary Neville wondered how Barcelona could land such major signings but still owes Frenkie De Jong £17m.
De Jong is Manchester United's prime target, and the Reds have reportedly reached an agreement with Barcelona for the player.
De Jong should consider legal action v Barcelona and all players should be behind him!A club spending fortunes on new players whilst not paying the ones they have under contract their full money is immoral and a breach. @FIFPRO should be all over bullying like this and stop it.

— Gary Neville (@GNev2) July 25, 2022
However, sources close to the Catalan club revealed that Barcelona were trying to shift the debt burden to Man United as part of the deal.
Also, the Chairman of the Dutch players association has also indicted the Catalans of using extortionist tactics in their negotiations with Frenkie De Jong.
Responding to the allegations, Barcelona's President asserted that although he respected the opinion of Gary Neville, his advice for the former Ajax player to take legal action against the club was wrong.
"Though I respect Gary Neville's opinion, I think he is not right because we give our players utmost respect," Laporta said.
"I insist we are respecting all our players. We are following all of the contracts…"

Joan Laporta responds to @GNev2's claim that Frenkie de Jong should consider legal action over the $17 million Barcelona owe him in unpaid wages. https://t.co/Zr2DXNVS8r pic.twitter.com/j0MnjdAWDh

— CBS Sports Golazo ⚽️ (@CBSSportsGolazo) July 30, 2022
Reacting to the accusations of using extortionist tactics for Frenkie, Laporta said that De Jong is still a Barca player and that he can still refuse the paycut and stay at the club.
Recall that Barcelona have urged the Man United target to accept a paycut if he wants to stay a the club.