Football
Cristiano Ronaldo in Angry BUST-UP With Al-Nassr Coaching Staff After Kings Cup Defeat! [Video]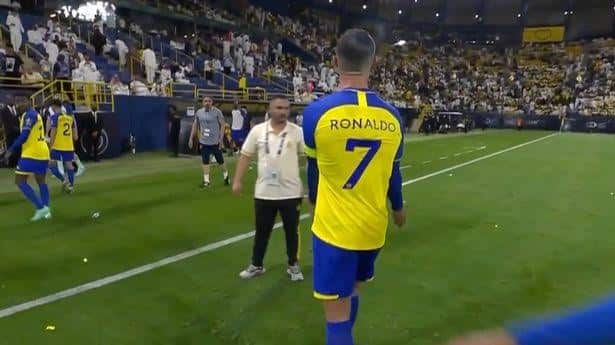 Cristiano Ronaldo bust into fury with one of his coaching staff during Al-Nassr's King's Cup defeat, MySportDab reports.
Cristiano Ronaldo's trophy hopes was again ripped apart on Monday night as Al-Nassr suffered a shock 1-0 defeat in Saudi Kings Cup.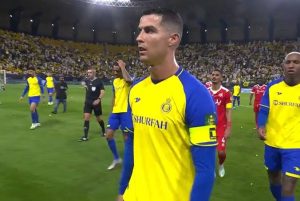 It was another disastrous night for the five times Ballon d'Or winner as he was left sad and downcast after the match which saw the Saudi Pro League title hopefuls crash out of the Saudi Kings Cup of Champions, losing to a lowly-rated Al-Wehda side.
The Manchester United legend lost his cool after the match came to an end.
As the players were making their way off the pitch, Ronaldo headed to an Al-Nassr coaching staff and remonstrated with fury for what he believed was not done in the match leading to the defeat.
As he was remonstrating in frustration, the Al-Nassr coaching staff seemed to ignore him and walked pass but Cristiano Ronaldo stood there confused for a while before heading to the exit tunnel.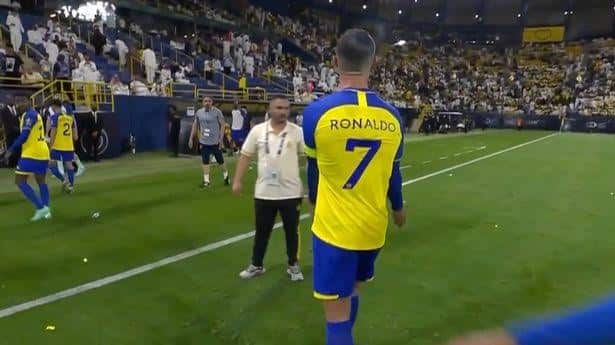 It was another disappointing game for the world's highest-paid footballer.
His hopes of emerging with at least one silverware in his debut season with Al-Nassr seems to have finally shattered down.
Al-Nassr were knocked out of the Saudi Super Cup by Al-Ittihad early in the season.
They also lost the top spot in the league to Al-Ittihad after they slumped to in a Saudi Pro League game against Al Feiha.
Cristiano Ronaldo was also caught offguard during the game as he furiously blanked Al-Nassr player refusing to have a handshake with him while blaming him for delaying the game.
Ronaldo also lost his cool after Al-Nassr 2-0 loss to Al-Hillal in the Saudi Pro League – a defeat that saw the team slip further from the Saudi Pro League title race.
As he was making his way off the pitch after the Al-Hilal game, rivals fans hailed Lionel Messi in a loud chant.
Ronaldo grabbed his crotch in detest of the mocking fans with his offensive reaction sparking reaction across the Saudi media.
Now, the Kings Cup loss against Al-Wehda is the third time Ronaldo has lost his cool after a disappointing match for Al-Nassr
Video;
Cristiano Ronaldo Angry At The Coaching Staff Of His Team After Not Getting a Single penalty-Elite Mentality 😭💔 #ALNASSR #Ronaldo pic.twitter.com/ewdeWW6yn3

— 𝐙𝐚𝐲𝐧 𝐊𝐚𝐫𝐢𝐦𓃵 (@_ZaynKarim) April 24, 2023