Football
Cristiano Ronaldo And Cameroon Fighter Ngannou SQUARE UP In A Mock Duel! (Video)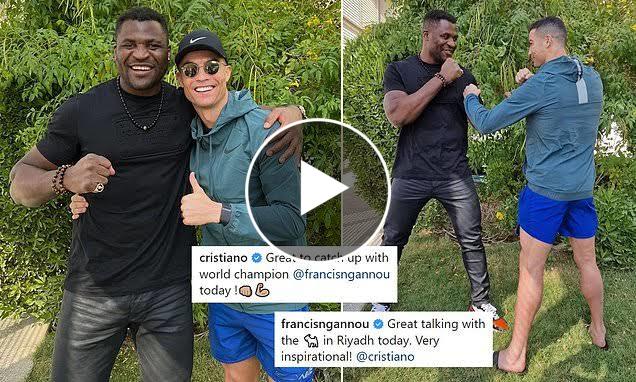 Cristiano Ronaldo and Cameroon UFC champion made headlines after squaring up against each other in a mock duel in Riyadh, Saudi Arabia, MySportDab reports.
Cristiano Ronaldo and Francis Ngannou met on Saturday in Saudi Arabia where they shared a jokey face-off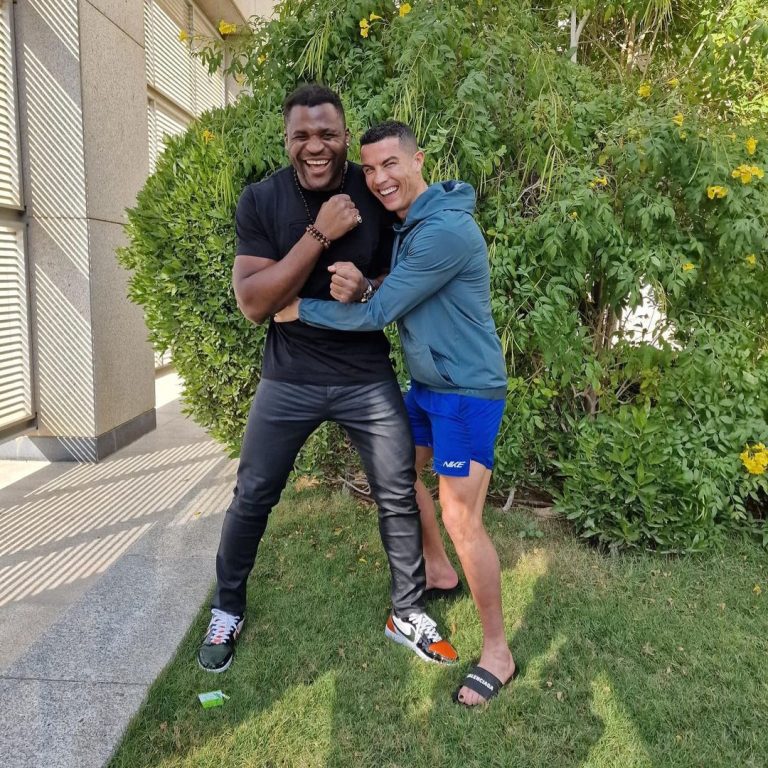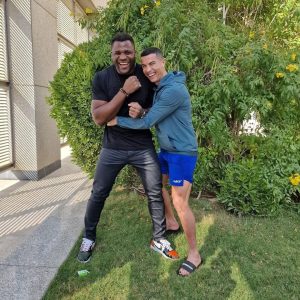 In a video available at the end of this post, the two legends in two big global sports linked and set the stage for a seeming duel before they both laughed of the scene and embraced each other.
In the linked up, it was Cristiano Ronaldo who quicky rethink and blinked before giving the Cameroonian a hug.
While Cristiano Ronaldo is currently plying his trade with Al-Nassr after a controversial exit from Manchester United, Francis Ngannou is a professional fighter and UFC Heavyweight champion.
The Cameroon Fighter is currently a fighting free agent after he was stripped of his belt and was out of contract.
Presently, Francis Ngannou is suffering from injury and is undergoing a surgical operation to return to fitness and possibly to the ring again.
He damaged his ACL and MCL in his right knee last year and his hoping to recover from the injury.
There are projections Francis Nganno may likey return to the boxing ring this summer depending on his fitness.
But currently, he is on holiday and had chose to visit Cristiano Ronaldo in Riyardh, Saudi Arabia where the had the mock duel.
After the incident, both athletes posted the pictures of the scene on the Instagram page.
Cristiano Ronaldo tagged the Cameronian and wrote, " Great to catch up with World Champion today."
Francis Ngannou tagged the football superstar and wrote," Great talking with the goat in Riyadh today. Very inspirational!"
Ronaldo joined A-Nassr as a free agent after his acrimonious exit from the club, following his controversial interview with Piers Morgan.
He made his debut in Saudi Arabias coming a brace in Ryadh All-Stars 4-5 loss to PSG in an exhibition game.
Meanwhile, Francis Ngannou has been called out by WBC heavyweight champion Tyson for a special rules fight.
Video; (Ngannou link up with Ronaldo)