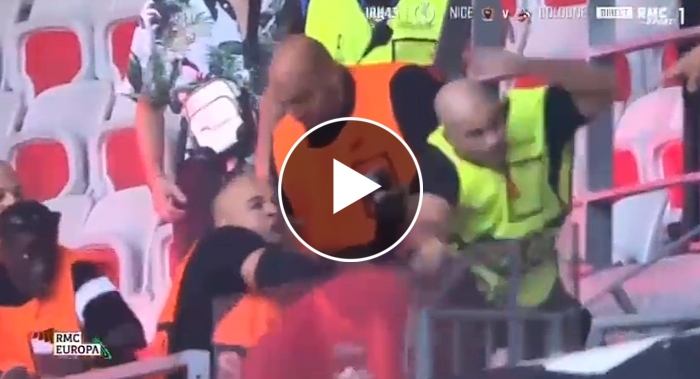 A dramatic interlude to the match between Cologne and Nice in the opening UEFA Conference League almost resulted in the match being called off, MySportDab reports.
The game was marred with violence as the fans engaged in a bitter fight resulting in severe injuries to both sides.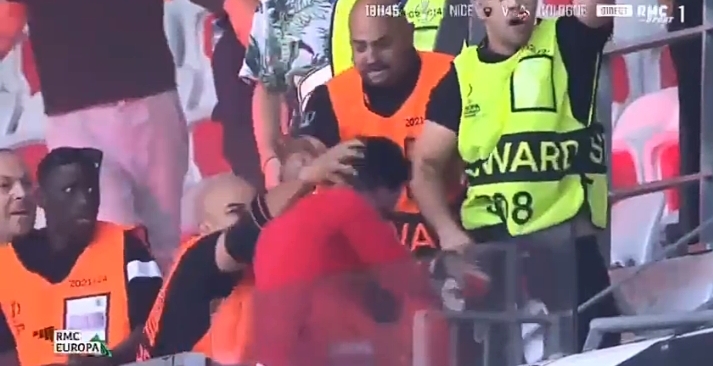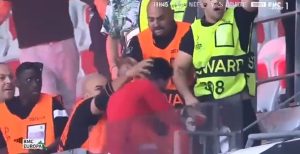 According to witnesses who chronicled what actually happened in the stadium, visiting Cologne fans were attacked outside the Allianz Riviera stadium.
READ ALSO: Paul Pogba: Mathias Pogba Issues Statement Again! (Details)
Hooligans from both sides were said to be involved in the bitter duel that saw objects, sticks, and fireworks used as missiles to launch attacks on the other.
The fight also involved blows and physical punches, which saw many injured; some victims were said to have been rushed to the hospital after the incident.
The fracas resulted in the match being delayed for 55 minutes, and there were threats that it would be called off if the incident reoccurred after calm was restored.
A report by local Police has indicated that about 39 people sustained injuries in the attack, including Police officers who tried to calm the situation.
One man was said to have sustained severe injuries and a broken rib during the brawl; he had fallen off the upper tier and sustained a serious head injury too.
The man is said to have been taken to the hospital, where he is now stable and conscious.
The fight has been first blamed on the visiting German fans who put up very offensive behavior at Nice's city center during the day during the buildup to the match.
Meanwhile, the city mayor has already threatened to send a bill to FC Cologne due to the lousy behavior of the hooligans.
The situation has been blamed on inadequate security provided during the match, allowing the hooligans to have their way.
After a delay of 55 minutes, the match was resumed, ending in a 1-1 draw. Uefa has reportedly commenced an investigation it the fracas.