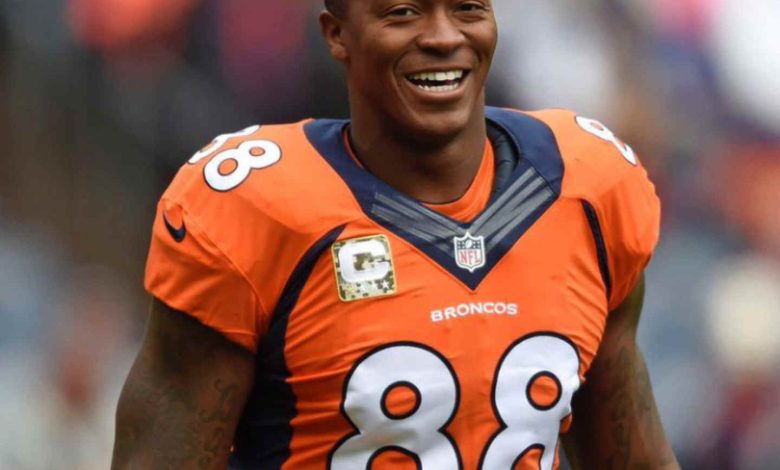 Demaryius Thomas was a professional football player for the NFL side Denver Broncos.
He is no longer alive, but his memories live on with so many people who were close to him and the world.
He was one sportsman who touched so many lives outside the world of sports due to his excellent character.
Demaryius Thomas Biography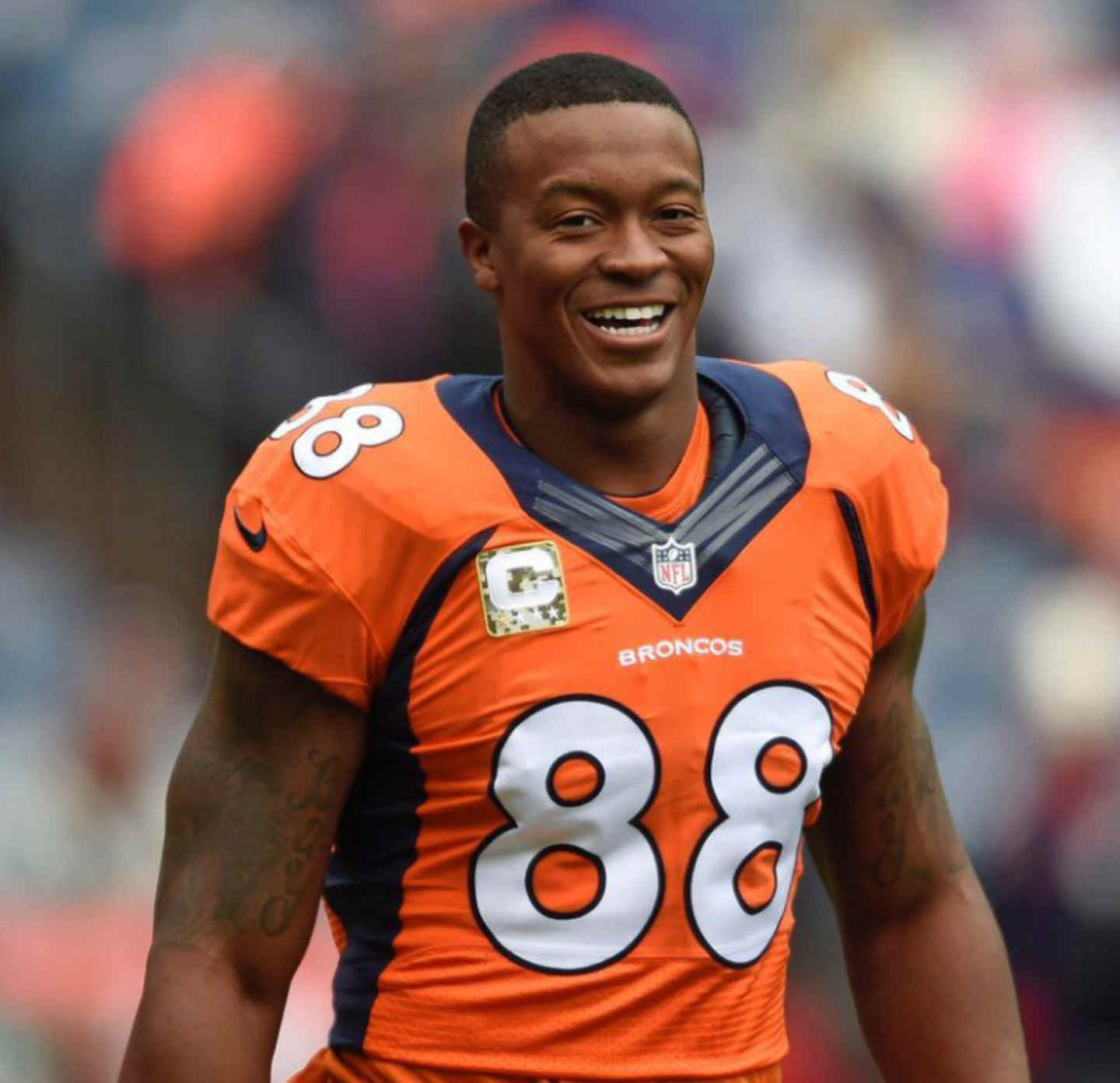 He was born on December 25, 1987, in Montrose, Georgia. Demaryius Thomas died on December 8, 2021.
His full names are Demaryius Antwon Thomas, the name given to him by his birth mother.
He was 34 years old when he lost his life after a brief fight with a health condition before giving up the ghost.
His growing up was rough as there wasn't so much family looking out for him based on how things were.
His aunt and uncle took care of raising him following the police case against his mother and grandmother.
His mother and grandmother were both raided and arrested by the police after they got caught and charged with drug distribution.
His mother got 20 years sentence in prison, while the police gave Demaryius's grandmother a more severe punishment, which was life in prison.
Due to the whole arrest situation, Demaryius had to move in with his aunt and uncle, who took care of him.
Growing up, he was always alone and known to be the shy kid who was also an introvert.
His mother got pardoned by Barrack Obama, who ordered her release on November 11, 2015.
Demaryius Thomas had his mother after so many years, and she was a massive part of his life.
His grandmother was also commuted the following year, 2016, by Barrack Obama, which saw her also getting the release.
Demaryius Education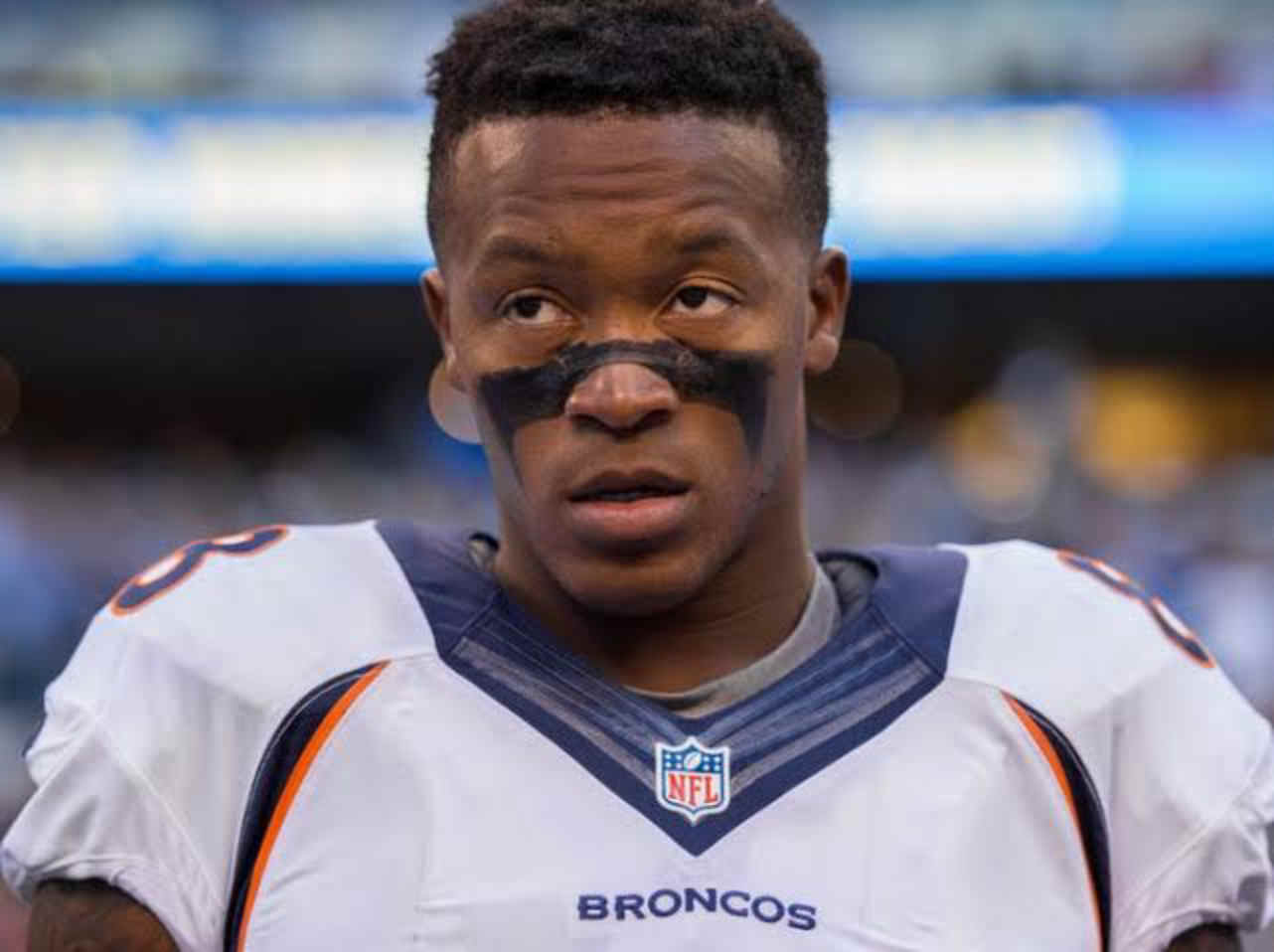 Demaryius Thomas's education is one extraordinary journey tailored by his aunt and uncle, who took care of him.
His education started by attending a local school closer to his family members who raised him as a child.
He moves on to attend West Laurens High School, an educational facility in Dexter, Georgia.
He was a student and an athlete with the school, where he did three sports, including football and basketball.
He attended the Georgia Institute of Technology, an institution in Georgia where he did his growing up.
He majored in management, and also at the same time, he was part of the school football program.
His education was going well as his studies were all attached, and he had a timetable to separate things from each other.
Demaryius Thomas was also one of the best students who had to ensure his grades were doing well to keep his name on the football team.
He graduated from school and got drafted into the NFL, where he started his career in the real world.
Demaryius Career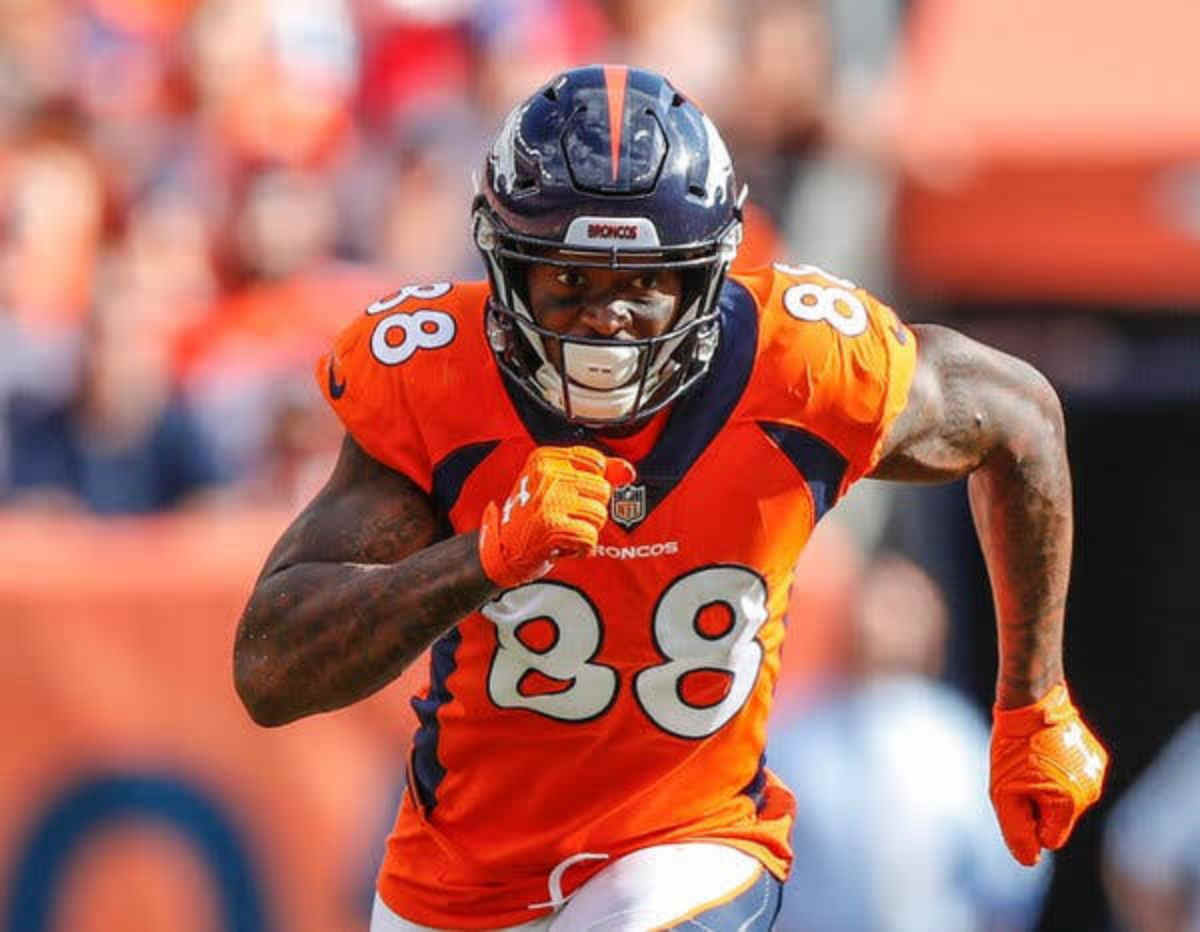 Demaryius played as a wide receiver during his football career.
His journey started as he developed a love for sports at an early age jumping into everything he saw others doing.
In high school, he joined their football team, where he started developing himself into a better athlete.
He played in field events and ran track events which for him was nothing but improving himself.
His journey continued to flourish until moving on to college, where things started becoming more serious and precise on which path he was heading.
Demaryius Thomas got drafted in 2010 as the number 22 pick in the first round after coming off fresh from college.
He got his deal to play for Denver Broncos in 2010, and spent eight years playing for the team who gave him his first shot.
He moved to Houston Texans in 2018 and only stayed with them for that year before making another move elsewhere.
Demaryius had one more year with New England Patriots in 2019, which was also good for him before leaving.
He played for New York Jets as his final destination before his career ended after so many success stories.
Demaryius Thomas Cause Of Death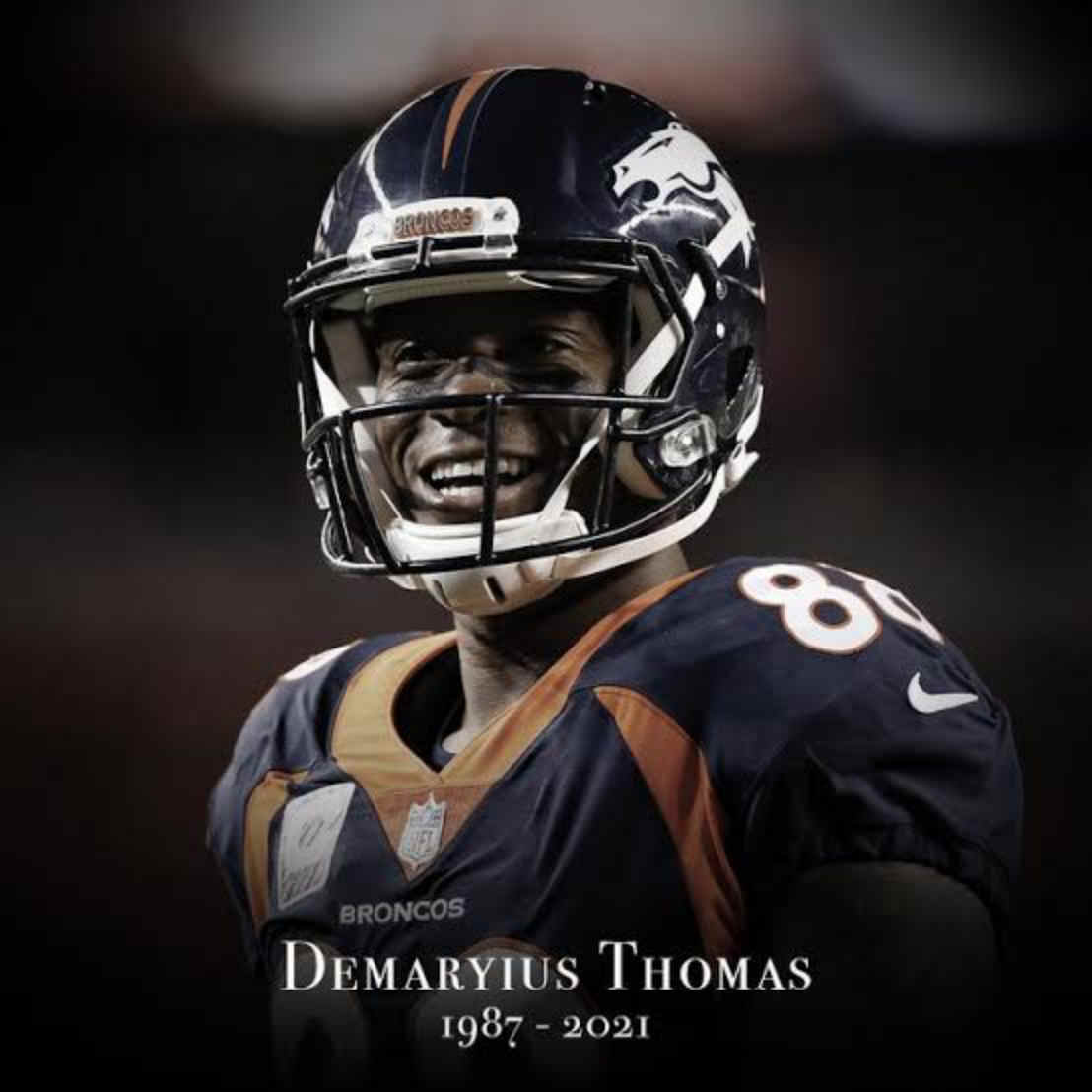 Demaryius Thomas was confirmed dead on December 9, 2021 in Roswell, Georgia.
He was found unconscious at his residence before the police said he was dead on being found.
Upon his death, he was supposed to celebrate his 34th birthday in the next 16 days but couldn't get the opportunity before his life ended.
READ MORE – Drew Brees Bio Age Nfl Stats Net Worth
The death day was not taken so well by his family, who had so much pain in them.
It was never expected of them to get to hear such news that Demaryius had left them at just age 34.
The police carried out investigations to see if any foul plays led to his death.
Demaryius Thomas's cause of death is a seizure, which was subordinate to a car accident that happened sometime in 2019.
The test done on Demaryius was later pointed he died of a medical condition related to a brain injury as released by the police after investigation.
Further investigation was carried out on his brain after death by Boston University examination.
His brain was experimented on and was positive for a medical issue, chronic traumatic encephalopathy (CTE).
The condition he had was a neurodegenerative condition which is associated with a repeat of head trauma.
His death was devastating to many people who couldn't bear the pain as they resulted in mourning his demise.
His family had to gather the courage to lay him to rest after everything that had happened.
He didn't live long enough to see his mother, who goes released in 2015, and was getting to spend more time with her.
Demaryius Thomas will be always be known for the successful life he lived and the joy he gave to so many people.