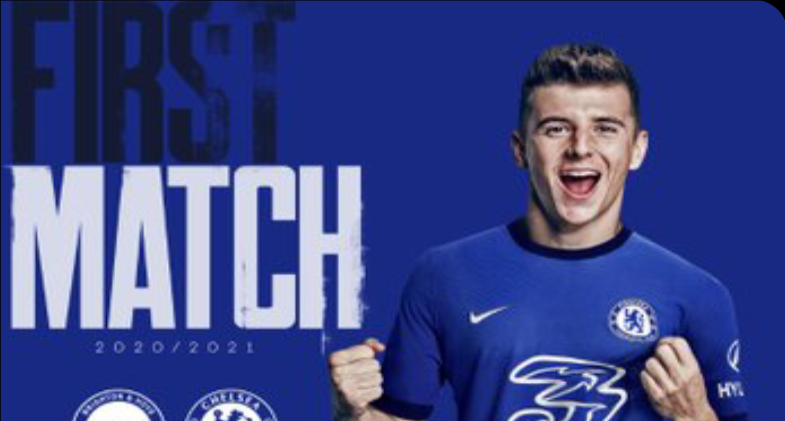 Chelsea start the new 2020/21 Premier League season with a visit to Brighton on Monday September 14th, MySportDab reports.
Frank Lampard's team got four points from matches against Brighton last season and will hope to better this season.
After Brighton, Chelsea face a difficult match against champions Liverpool at Stamford Bridge on September 19th.
After the Liverpool game, Chelsea face newly-promoted West Brom.
Chelsea's opening 2020-21 Season five fixtures are completed with a match against Crystal Palace and Southampton will visit west London.
Chelsea will end the season with a match against Aston Villa on May 23.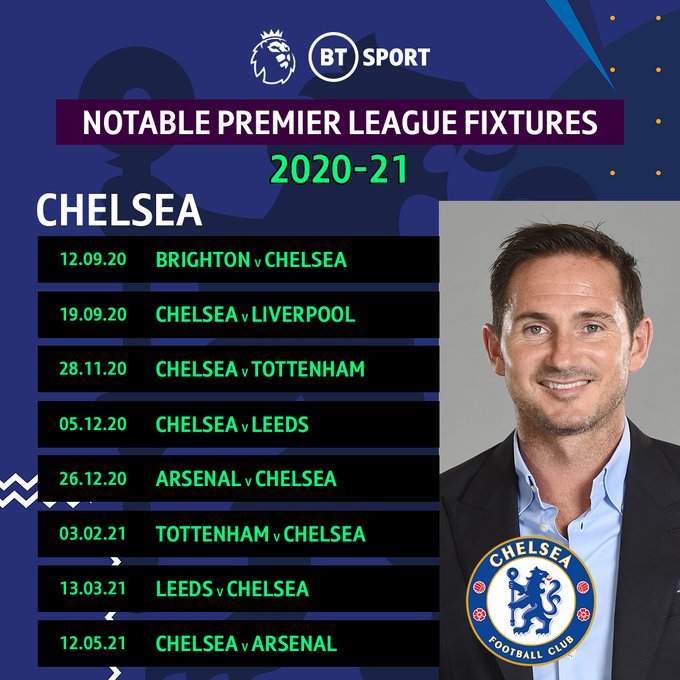 MySportDab has now provided you the full Chelsea fixtures for the 2020/21 Premier League season.
Chelsea 2020-21 Premier League Season Fixtures:
14/09/2020 – Brighton Vs Chelsea
19/09/2020 – Chelsea Vs Liverpool
26/09/2020 – West Brom Vs Chelsea
3/10/2020 – Chelsea Vs Crystal Palace
17/10/2020 – Chelsea Vs Southampton
24/10/2020 – Manchester United Vs Chelsea
31/10/2020 – Burnley Vs Burnley
7/11/2020 – Chelsea Vs Sheffield United
21/11/2020 – Newcastle United Vs Chelsea
28/11/2020 – Chelsea Vs Tottenham
5/12/2020 – Chelsea Vs Leeds
12/12/2020 – Everton Vs Chelsea
15/12/2020 – Wolverhampton Vs Chelsea
19/12/2020 – Chelsea Vs West Ham
26/12/2020 – Arsenal Vs Chelsea
28/12/2020 – Chelsea Vs Aston Villa
2/01/2021 – Chelsea Vs Manchester City
12/01/2021 – Leicester Vs Chelsea
16/01/2021 – Fulham Vs Chelsea
27/01/2021 – Chelsea Vs Wolvers
30/01/2021 – Chelsea Vs Burnley
3/02/2021 – Tottenham Vs Chelsea
6/02/2021 – Sheffield United Vs Chelsea
13/02/2021 – Chelsea Vs Newcastle
20/02/2021 – Southampton Vs Chelsea
27/02/2021 – Chelsea Vs Manchester United
6/03/2021 – Chelsea Vs Everton
13/03/2021 – Leeds Vs Chelsea
20/03/2021 – Liverpool Vs Chelsea
3/04/2021 – Chelsea Vs West Brom
10/04/2021 – Crystal Palace Vs Chelsea
17/04/2021 – Chelsea Vs Brighton
24/04/2021 – West Ham Vs Chelsea
1/05/2021 – Chelsea Vs Fulham
8/05/2021 – Manchester City Vs Chelsea
12/05/2021 – Chelsea Vs Arsenal
15/05/2021 – Chelsea Vs Leicester
23/05/2021 – Aston Villa Vs Chelsea
More: English Premier League 2020-21 Season Opening MatchDay Fixtures [Full List]