Football
Racial Attack: Vinicius Jr CLASHES With LaLiga President Javier Tebas! [MUST READ]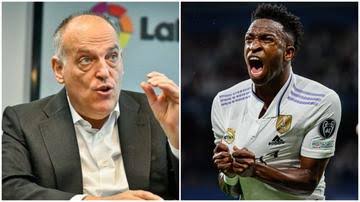 Real Madrid forward Vinicius Jr is in a bitter racism row with LaLiga President, Javier Tebas, MySportDab reports.
Last night, Real Madrid suffered a defeat against Valencia in a tightly-contested LaLiga clash.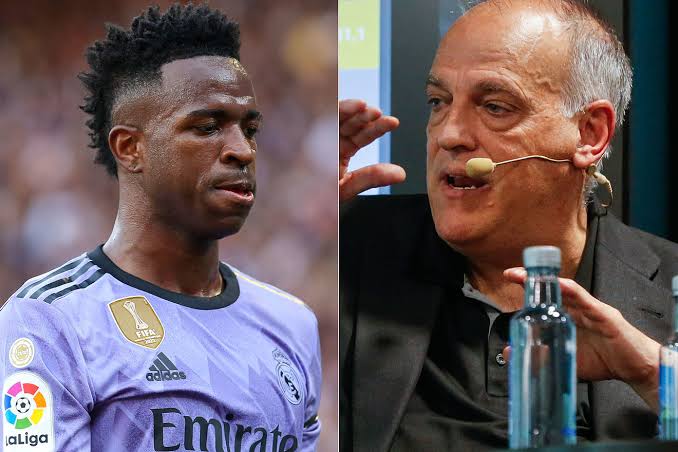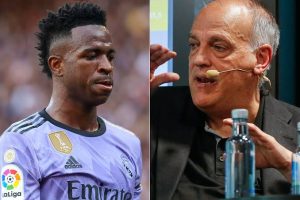 Vincius Jr came under a racial attack before and during the game by Valencia fans.
An on-field fracas break out during the game as Vinicius Jr attempted to react to racial attack by the fans.
He was issued a straight red card by the referee and was very emotional as he walked off the pitch.
After the game, Vinicius Jr took to his social media handle to blast the LaLiga and the fans allowing racism to dominate the LaLiga.
Vinicius Jr wrote;
"…'It wasn't the first time, nor the second, nor the third. Racism is normal in LaLiga.
"The competition thinks it's normal, the Federation does too and the opponents encourage it. I'm so sorry.
"The competition thinks it's normal, the Federation does too and the opponents encourage it. I'm so sorry."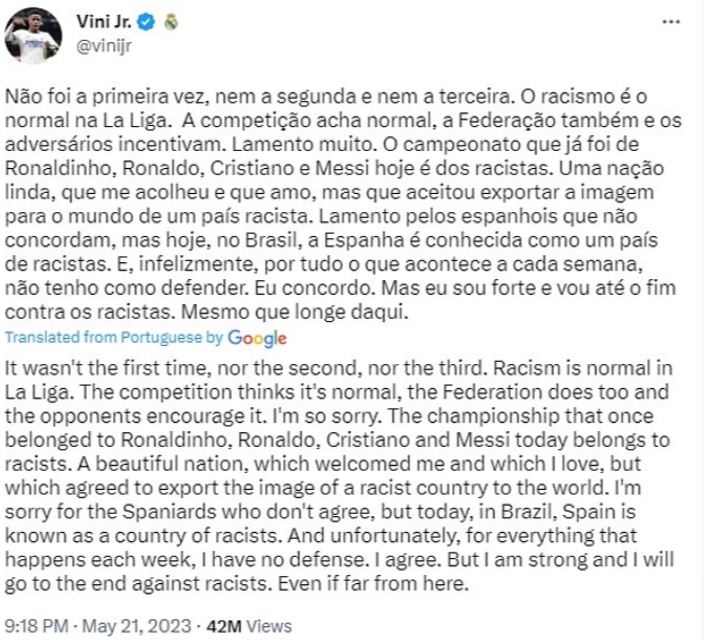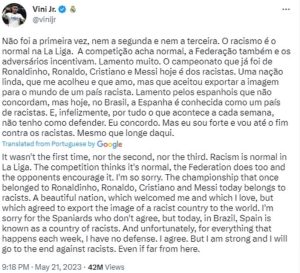 Apparently offended by Vinicius Jr's tweet, LaLiga President, Javier Tebas immediately responded to Vinicius Jr's claims, blasting the player for unfounded claims and accusations.
Tebas wrote;
"…'Neither Spain nor LaLiga are racist, it is very unfair to say that
"Since those who should not explain to you what it is and what it can do @LaLiga in cases of racism, we have tried to explain it to you, but you have not shown up for either of the two agreed dates that you requested yourself.
"Before criticising and insulting @LaLiga, it is necessary that you inform yourself properly @Vinijr."
After Tebas response, Vinicius Jr took to social media again to react to the response by the LaLiga chief.
He blasted Javier Tebas for not condemning the racist abuse but choosing to attack him instead.
He wrote;
"Once again, instead of criticising racists, the president of LaLiga appears on social media to attack me.
"As much as you talk and pretend not to read, the image of your championship is shaken. See the responses to your posts and have a surprise… Omitting yourself only makes you equal to racists."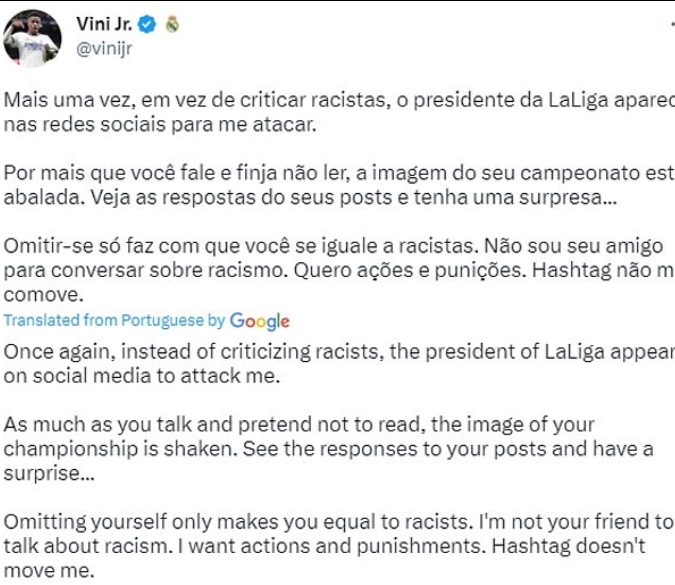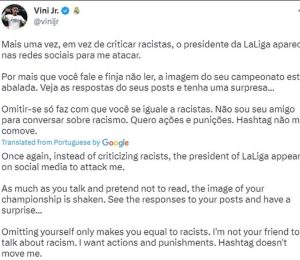 Vinicius Jr has been attacked racially in the Laliga since joining Real Madrid in 2018.
Meanwhile, it has been confirmed Real Madrid have taken legal action for 'hate crime' against the erring fans who hurled racial slurs at Vinicius Jr during the game.