Football
PSV Fan Invades Pitch, FIGHT Sevilla Goalkeeper After UEL Exit! (Video)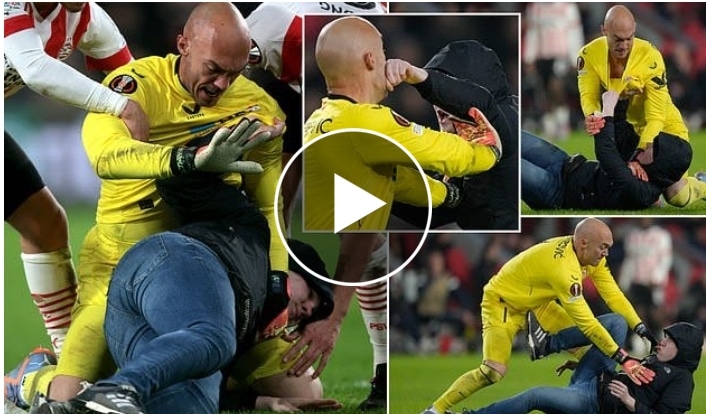 An ugly scenario greeted the end of the Europa League playoffs second leg between PSV Eindhoven and Sevilla, MySportDab reports.
The first leg between the two sides in Spain ended in a big 3-0 win for Sevilla. Hence, PSV needed 4-0 home win to overturn the result or at least a 3-0 win to drag the game into penalties.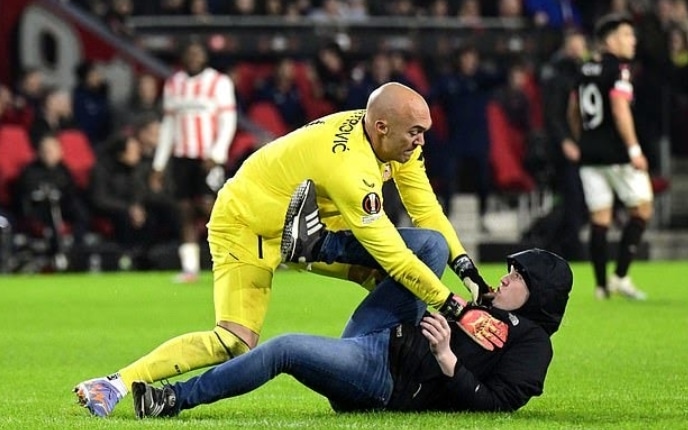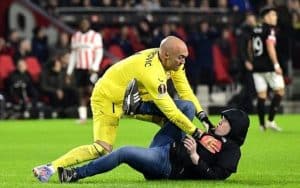 However, it was not the case as Sevilla traveled to the Netherlands for the return leg.
The home side secured a 2-0 victory over Sevilla and could not do more as they ended up losing 3-2 on aggregate to Sevilla.
The Dutch giants were therefore bundled out of the competition by the Spanish side, who now progress to the round 16 of the tournament.
After the referee blew the final whistle for the end of the game, a seemingly furious and angered PSV fan was seen on a viral footage (available at the end of this post) beating the barricade and running into the pitch to attack Sevilla Goalkeeper Dmitrovic.
The unidentified fan ran direct to the goalkeeper, grabbed him in the cloth and began to throw punches.
Dmitrovic responded immediately and succeeded in wrestling the fan to the ground before other players rushed to the scene and separate the two.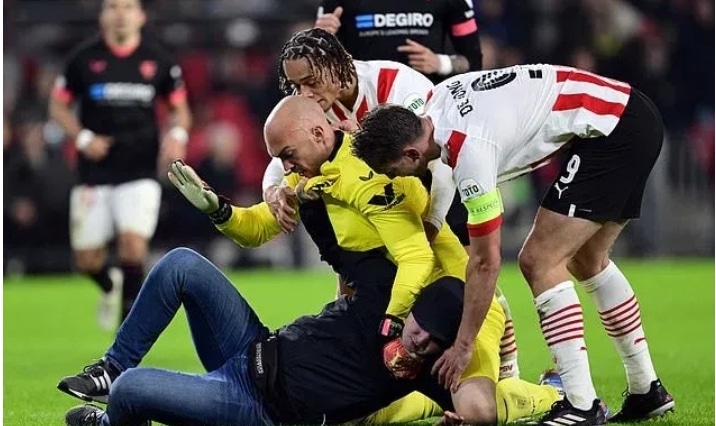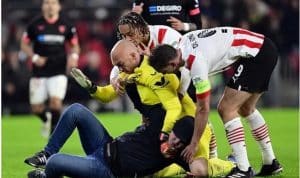 While the fans' untoward reaction is apparently stemming off the shock loss and exit of PSV Einhoven from the Europa League, he is putting his club at risk of UEFA sanctions following the behavior.
Sevilla goalkeeper said he was shocked of the fans reaction and did not expect such reaction.
Sevilla progress to the round 16 of the Europa League despite the 2-0 loss to PSV, due to their first leg win over the Dutch side.
Video;
Estaba Navas, Téllez, Suso o Montiel, pues se va para Marko Dmitrovic, serbio de 1'90 que tiene pinta de portero de discoteca.

Demasiado poco le ha hecho, que un par de ostias le ha podido dar.

Grande Dimitrovic!! Vamos Sevilla!! pic.twitter.com/hzEaUhWQDc

— Maxi (@maxi23m) February 23, 2023