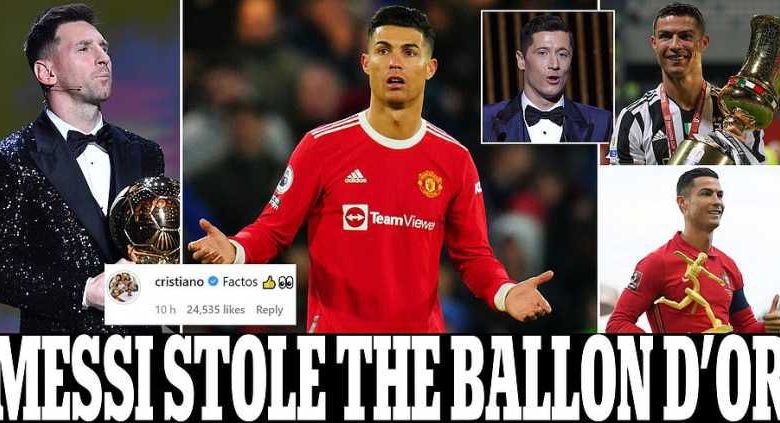 Cristiano Ronaldo has now publicly backed claims that Lionel Messi stole the 2021 Ballon d'Or from him and Robert Lewandowski, MySportDab reports. 
Messi won his seventh Ballon d'Or on Monday, ahead of Bayern Munich Forward Lewandowski by 33 votes.
Ronaldo finished sixth in the 2021 Ballon d'Or Rankings and 435 votes behind Messi.
However, The Manchester United forward has now reacted about Lionel Messi winning the 2021 Ballon D'Or on Social Media.
He commented on a Fan account post which revealed why Messi does not deserve the Ballon D'Or and wrote: 'facts'.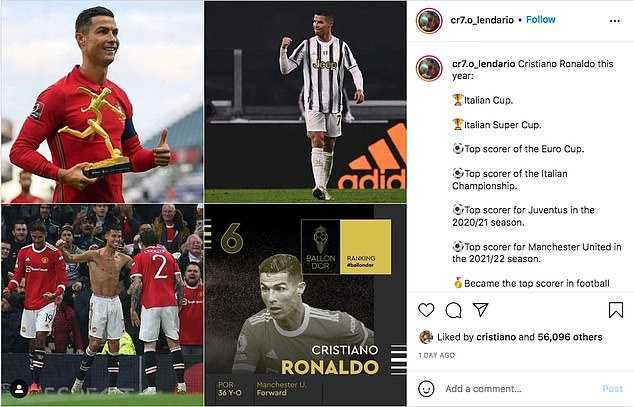 An Instagram fan account named 'Cristiano Ronaldo – O Lendario' that Ronaldo himself follows made a post on Ronaldo's 2021 achievements and then described Messi's win as 'Theft. Dirt. Shame. Simply regrettable.'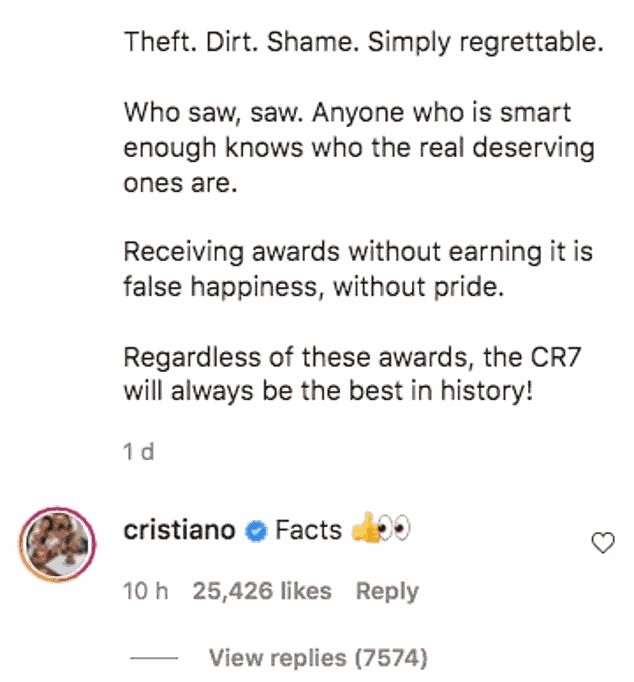 'Everyone saw that. Anyone smart enough knows they are trying to deceive people. Receiving awards without earning it is bad.'
The Instagram post Caption started saying: 'Scored 43 goals so far in the year, 6 goals in 5 Champions League matches, all crucial and a guy who keeps on doing miracles is the guy who most impresses the world.
'They still place Ronaldo in 6th… Did those 5 guys do more than him? Never.
'He could fight for this award and the fight would be good with Lewandowski who was no doubt incredible and Bayern had a better season too.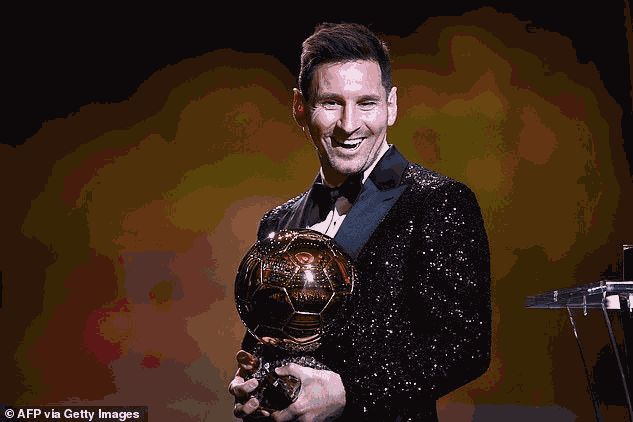 'And at the end who wins the prize? For Messi, that won only the Copa del Rey at Barcelona, ​​he failed to score a goal in La Liga against Real Madrid since when Cristiano left, unknown in the big games of the season.
'He failed to score in any final or the semi-final. And he's having a weak season with PSG obviously.'
Messi's Ballon D'Or win in Paris on Monday has also been criticised by Jurgen Klopp,Toni Kroos and Iker Casillas.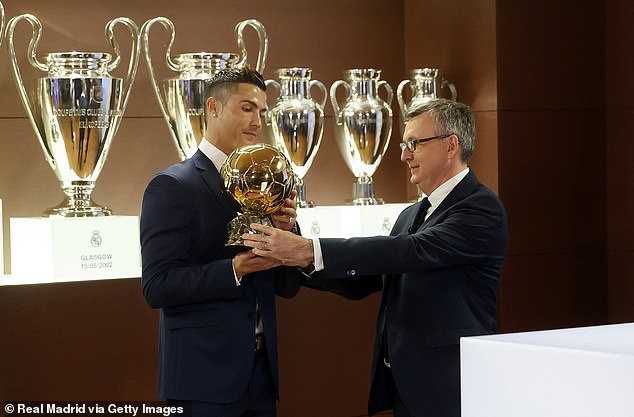 However, Ronaldo himself was embroiled in a row with the Ballon d'Or's chief editor over 'lies.'
Ballon D'Or editor Pascal Ferre claimed that the 36-year-old's career goal was to end with more golden awards than Messi.