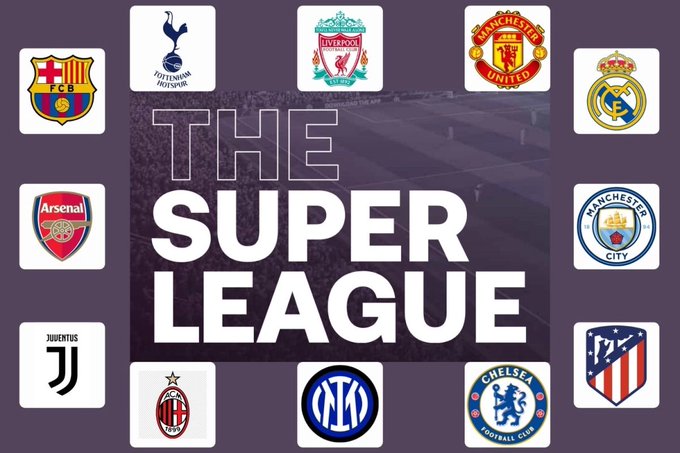 The European Super League Clubs has now been officially announced the new competition in a shocking moment for World football, MySportDab reports. 
The English Premier League top six have all joined a new Super League which is expected to start as soon as possible.
The Super League could split English football, as the Premier League on Sunday announced that it is against such a competition.
Manchester United, Manchester City, Liverpool, Arsenal, Chelsea, and Tottenham have all agreed to join the European Super League.
Now the Premier League clubs face a difficult future, either stop playing English Football or pull out of the European Super League.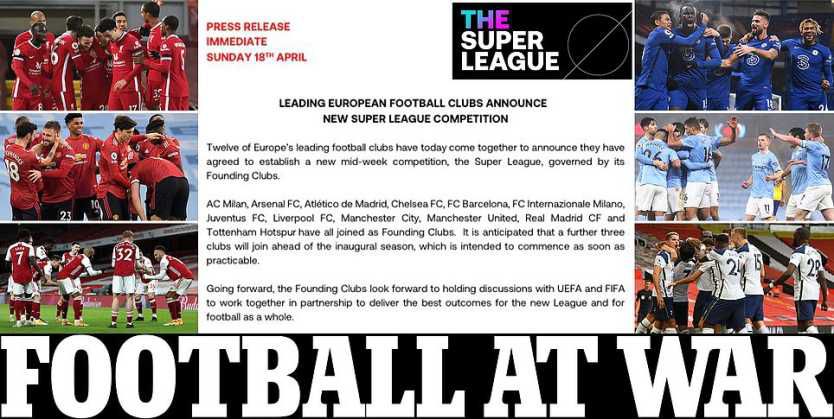 The other top clubs involved in the Super League include Real Madrid, Juventus, Barcelona, Atletico Madrid, AC Milan and Inter Milan.
MySportDab understands that Bayern Munich and Paris Saint-Germain both rejected the idea at first but they could change their mind the coming weeks.
There are plans to expand the Super League to 15 founding clubs, with a further five clubs to join is a rapid change.
Football Fans, UEFA, FIFA, politicians, governing bodies and some of football's famous players have joined in condemning the new Super League development.
UEFA has threatened to ban every team and player that participates in the newly formed Super League from all UEFA and FIFA competitions at the European and International level, per @FabrizioRomano

This would include the World Cup. @brfootball pic.twitter.com/vuCWY0ZGMm

— Bleacher Report (@BleacherReport) April 18, 2021
Real Madrid president Florentino Perez is the main master mind of the formation of the Super League.
The European Super League made its first officially announced on Sunday night.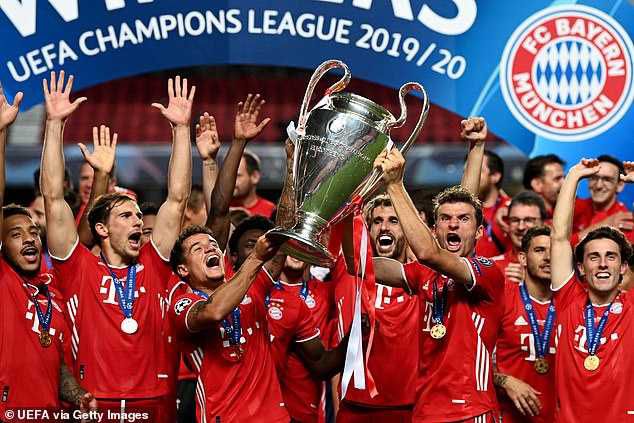 A simple statement which shocked the world of football, read: 'Twelve of Europe's top football clubs will now come together to establish a new mid-week competition, the Super League, managed by its Founding Members. 
'AC Milan, Manchester United, Arsenal, Juventus, Atlético Madrid, Real Madrid, Chelsea, Barcelona, Inter Milan, Liverpool, Manchester City, and Tottenham Hotspur are the Founding Clubs.
'Three more clubs will join ahead of the first debut season, which will commence as soon as possible.
'Going forward, the Founding Clubs will hold talks with UEFA and FIFA to work together in partnership to deliver the best for football as a whole.'
Major US bank JP Morgan are now financing the new league, and the founding clubs will earn £3.03billion.
Florentino Perez, European Super League Chairman:
"If they ban the European Super League players from the 2022 World Cup in Qatar, we will create our own World Cup. It is nothing."