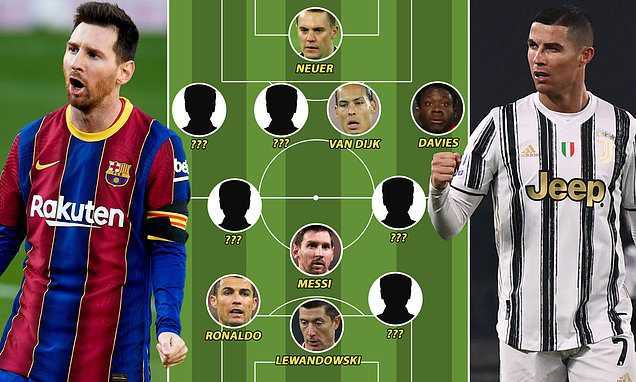 UEFA have now revealed their 2020 Team of the Year, voted by football fans across the world, MySportDab reports. 
Legendary duo Lionel Messi and Cristiano Ronaldo were both selected to make the team.
Lionel Messi is put in attacking midfield, playing in front of the two other forwards.
The Barcelona forward has not played in midfield this season, and he's been used frequently as a second striker.
Ronaldo is played as a centre forward for Juventus but has played on the wing once this season.
However, the Portuguese International is on the opposite wing.
Ronaldo played many games on the right wing during his time as a Manchester United player.
Ronaldo has been selected for the 15th time and has been in every Fans' Team since 2007.
Messi has been chosen 12 times during his professional career.
The UEFA 2020 TEAM OF THE YEAR includes five players from Bayern Munich's Champions League squad.
They are Manuel Neuer, Thiago, Joshua Kimmich, Alphonso Davies, and Robert Lewandowski.
Kimmich is more used frequently as a defensive midfielder but he's been put at right back for most games last season.
The German International played six games at right back during the Champions League season.
Neuer has been selected as the goalkeeper of the year with his six clean sheets in the competition.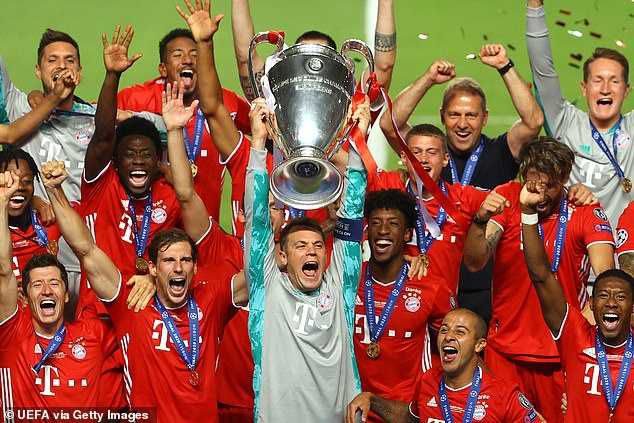 Meanwhile, Davies starts at left back and Thiago is one of the midfield players behind Messi.
This is the first time Kimmich, Thiago and Davies have been selected by UEFA.
Davies is the first Canada International to make the team.
Thiago is put with Manchester City's Kevin De Bruyne, who scored two goals in the Champions League last season.
Virgil Van Dijk and Sergio Ramos are the only players from Liverpool and Real Madrid in the 2019-2020 season to make the team.
Neymar makes the team with the PSG winger on the opposite wing of Ronaldo, and Robert Lewandowski upfront.
UEFA 2020 TEAM OF THE YEAR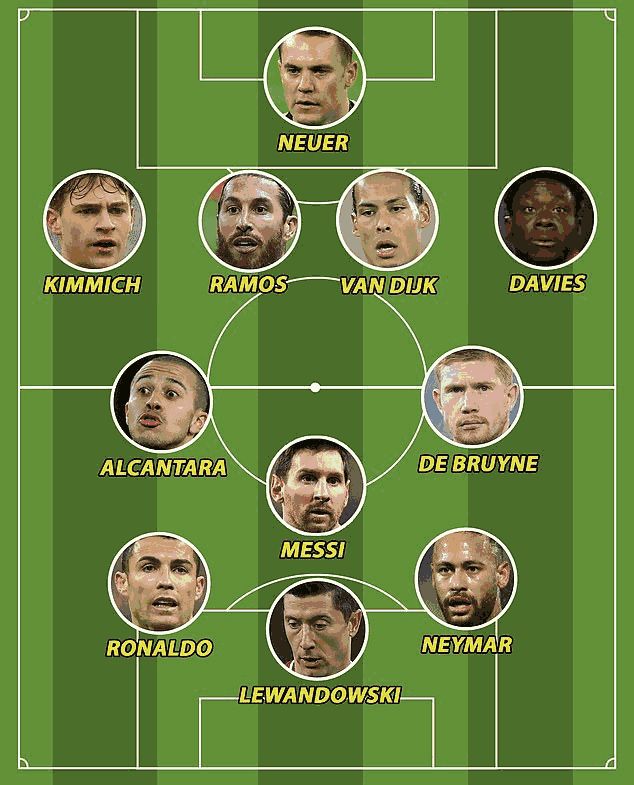 Goalkeeper: Manuel Neuer
Defender: Kimmich, Van Dijk, Davies, Ramos
Midfield: Thiago, De Bruyne, Messi
Forward: Ronaldo, Neymar, Lewandowski