Virgil van Dijk has revealed the reason he decided to join Liverpool instead of Manchester City and Chelsea two years ago, MySportDab reports. 
Van Dijk has been a key part of the Reds' Champions League and Premier League success ever since.
However, The Netherlands international has revealed that Jurgen Klopp played a key role in convincing him to join Liverpool and ignore rivals Manchester City and Chelsea.
When Van Dijk agreed to join Liverpool in December 2017, Pep Guardiola's Manchester City were top of the EPL table with 19 wins and a draw from 20 matches, while Chelsea  sat in third.
Liverpool were fourth and 20 points behind league leaders Manchester City after just 20 games of the season, while Chelsea were four points ahead of Klopp and co.
Liverpool's problem was very known as their defence.
They had conceded seven goals more than the three clubs ahead of them on the table.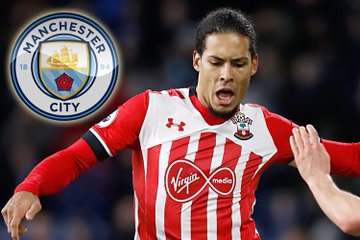 That included a 5-0 thrashing by Manchester City and a 4-1 loss at Tottenham, while in the Champions League group they gave up a three-goal advantage to draw 3-3 against Sevilla.
But, Van Dijk's transformative impact since his £75m club-record transfer in the 2018 winter window has seen Liverpool have one of the best defence in England's Premier League.
He helped them to win the Champions League last season and the Premier League this campaign.
Now, Van Dijk credits Jurgen Klopp for helping convince him to join Anfield.
Van Dijk Interview 
"I had the chance to sign for Man City and Chelsea," Van Dijk admitted. 
"When you compare, you look at their history, the home town, the squad, their future plans.
"But the most important factor is the manager – and Jurgen Klopp is an crucial reason why I decided to sign Liverpool.
"Klopp clearly has a special ability. Is it his vibe? Is it his overall character?
"I sometimes look and think about what he's done and what he has done better than others.
"I think it is his player management. These days it is very important than anything in football.
"Klopp gives you this great feeling. He is genuinely happy when you walk into the club in the morning.
"It may sound somehow, but it inspired me as a player.
"He always makes sure to give every player a hug after each match. It might be a really small, yet it feels nice for every player.
"And the next day, he can slam you in front of the squad at training.
"But you have to accept that too. Because you know it's nothing personal. That way demands a lot from us."
Netherlands Captain Van Dijk has now won four trophies since joining Liverpool almost three years ago.
Virgil Van Dijk has not failed to play a single Premier League game over Liverpool's past two seasons, during which the Reds have conceded just 47 goals in 70 matches.
During the two seasons, Van Dijk has scored eight goals, making him the club's highest goal scorer in the league after their attacking trio of Sadio Mane, Mohamed Salah, and Roberto Firmino.
For more news, Checkout MySportDab football category.