Biography
Ahmed Musa Biography Wife Family Net Worth Cars House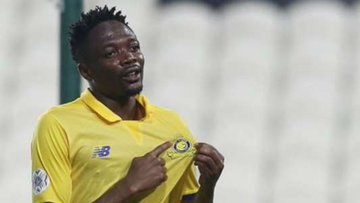 Ahmed Musa, a professional Nigerian footballer is considered as one of the best Nigerian footballers and here is his biography, net worth, cars, house, and all.
              Ahmed Musa Biography Age Family Cars Everything
With an intriguing life story of how a simple boy from Nigeria became one of the best known Nigerian footballers, Ahmed Musa has a lot to be thankful for and us to admire his rise to fame. But where did it all start and what was his life story like?
Ahmed Musa story began on 14th October 1992 in the city of Jos, Plateau State in Nigeria, when he was born to Alhaji Musa and Sarah Moses.
He had a relatively good life, up until an untimely death of his father, while Musa was still a young boy. That meant that he and his 4 sisters were left with only their mother who raised them by herself.
Nonetheless, their mother did everything she could to provide their children with everything they desired. She also played a big part in Ahmed Musa's dream of becoming a professional footballer with her support.
Even as a young boy Ahmed Musa spent a lot of his time playing football, the game he loved and enjoyed, and even as a kid his dream was to one day be a professional football player.
His dream did not take long to start molding into a reality, as Musa quickly started to show his potential as a football player.
In 2008 he joined the GBS Football Academy, where his performances caught the attention of Nigerian clubs. Only a year later Musa joined JUTH FC where he played 18 games and scored 4 goals. Next year, in 2010, Musa joined Kano Pillars where his rise to fame started.
In only 25 appearances for his new club, Musa scored 18 goals and singlehandedly carried the team to a second-place finish. After an impressive season at Kano Pillars, he did not only make a huge impact in his new team but also made a name for himself in the football world.
His performance in 2009/10 season was the one which earned him a spot in Nigeria's 2010 WAFU Nations Cup squad, where Musa played a crucial part for his team winning the cup.
After another impressive performance, Musa was called into the senior squad, however, an injury stopped him from playing in the 2010 FIFA World Cup.
In only a few years Musa made a name for himself in Nigeria, but now he felt like it was time to offer his skills to the world.
That is why Musa decided to travel abroad and join the Eredivisie team VVV-Venlo. He was however too young at the time to play for the team, which meant he had to wait a few months to feature for the club.
However, as soon as he turned 18, Musa made his debut in a match against FC Groningen where he got his team a penalty kick which helped his team to a victory on his debut day.
His impressive performances continued which was noticed by media who suggested he should move to a stronger league like England or Germany, where he would become a new football star.
While he did not exactly follow the instructions of football media, Musa did end up in cold Russia in January 2012, when he joined CSKA Moscow, where he once again left a mark.
In his first season with the new team, Musa won the league cup and the Russian Premier League, which was the first league title for CSKA Moscow after 6 long years.
While he was one of the key players in CSKA Moscow, Musa continued performing admirably well on the international level.
In 2013, he helped Nigeria win the Africa Cup of Nations, and had his fair share of involvement in the 2014 FIFA World Cup campaign.
That year the Nigerian team ended up losing to France in 1/8 finals, however, Musa went down in history as a player who scored 2 goals against Argentina in the group stage.
Fast forward to 2016, Musa moved from CSKA Moscow to Leicester for a club record fee of 19.5 Million €. With impressive results in Russia, Netherlands and on the international level, Leicester expected a lot from Musa, however, he failed to deliver.
In 33 games played for Leicester Musa only scored 5 goals, which was not enough for the Foxes to keep him, so they decided to sell him to Al-Nassr for a 16,50 Mill. € in August of 2018, where he remains up to date.
In 2018/19 season, Musa played 21 matches for Al-Nassr, scored 5 goals and added 6 assists.
Ahmed Musa Stats:
3 – Ahmed Musa has scored each of Nigeria's last three World Cup goals, with this goal meaning he is the highest goalscorer at World Cup tournaments for the Super Eagles. Flying.
4 – Ahmed Musa has scored 5 braces for Nigeria since 2014 – at least 3 more than any other Nigerian player.
Jun '14: Nigeria 2-3 Argentina
Nov '14: Nigeria 3-1 Sudan
Mar '15: Nigeria 2-0 Niger
Jun '17: Nigeria 3-0 Togo
Jun '18: Nigeria 2-0 Iceland
Specialist.
– Ahmed Musa is the only player to score 2+ goals in a single World Cup game for #NGA.
2014: ⚽️⚽️ vs. Argentina
2018: ⚽️⚽️ vs. Iceland
He's done it twice.
Musa is only 26-year-old but no doubt has the quality taste for cars having recently acquired a new Mercedes Benz V Class 2019 Zero KM $87200 worth 31million naira earlier in 2019.
– Range Rover Sport: The fans of Ahmed Musa first saw him with this vehicle on social media. This car is a luxurious SUV of middle sizes, made by the company Land Rover. The second generation of these cars, one of which Ahmed Musa owns, came out in 2013, even though they have been around since 2005.
– Mercedes G-Wagon: This is another car owned by Ahmed Musa. It is also called Mercedes-Benz G-Class. This car is a four-wheel luxurious SUV of middle size. The manufacturer is Magna Steyr, the company based in Austria.
– Range Rover Velar: The new car of Ahmed Musa, which he acquired in 2018. This white car is very gorgeous and practical. It is produced by the Jaguar Land Rover company and is a fourth model in the line of Range Rovers. This car, which is also an SUV, is very compact and luxurious. It was first released to the public in 2017.  
Ahmed Musa House:
Ahmed Musa completed his multi-million naira mansion in his home town Jos in 2016 and it includes top facilities such as swimming pool, football pitch, a mosque, a gym and more.
According to news sources, The house would cost Musa millions of dollars as the footballer spent time developing the property which is built on 10 plots of prime real estate.
Ahmed Musa Salary, Net-worth
Musa net-worth is estimated at $18million and currently earns an annual salary of over $3m and if any club wants to sign him, they would be prepared to pay a sum of money and negotiate with his present club.
Ahmed Musa Personal Life, Wife, Kids

Ahmed Musa was married twice. With his first wife Jamila Musa, Ahmed Musa had two children Ahmed Musa Jr and Hamila Musa. But the marriage did not last long and the pair separated in 2017. Not long after Ahmed Musa got married once more, this time to Juliet Ejue.
Ahmed Musa wife Juliet is from Ogoja Local Government Area in Cross River State, Nigeria. She was a student at the Police Secondary School, which is located in her native city Calabar.
In 2018, Musa became a father once more, this time to Ibrahim Musa. In January 2019, Ahmed Mousa's biggest inspiration and a key figure in his life, his mother Sarah Moses passed away due to an illness.
While we did end Musa's short biography on a sad note, his story is inspiring, to say the least. While this might not be the usual article, which talks about football news, but rather a short biography, it's still an interesting story about Ahmed Musa, cars, family, stats, house and everything whose life story took him all over the world from the small town in Nigeria to the highest level of professional football.  
Ahmed Musa Facts:
Date Of Birth: October 14, 1992
Place Of Birth: Jos, Nigeria
Height: 5 feet 7 inches (170cm)
Weight: 62kg
Playing Position: Winger