Biography
Victor Osimhen Bio, Background, Family, Football Career, Net Worth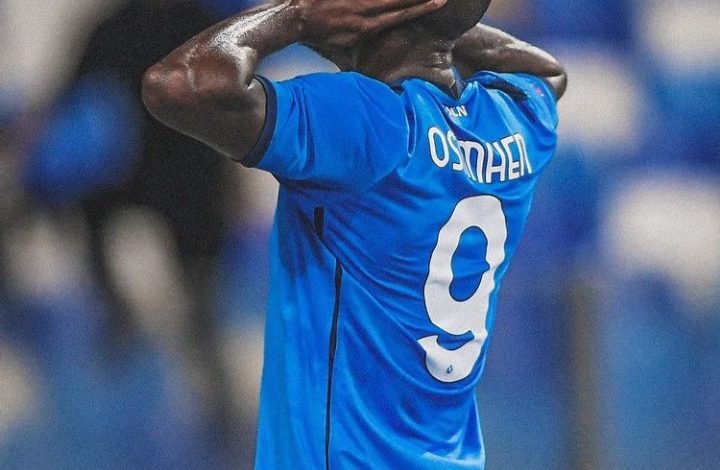 Victor Osimhen is a top Nigerian footballer who currently plays for the Italian Serie A club Napoli.
Osimhen has been on fire at the start of the 2021-22 season after his record-breaking move from Lille to Napoli last term, scoring six goals in four games in September to take the top of the table spot for Naples in Serie A.
The Nigeria international came under heavy criticism last season after he had failed to perform to expectations prior to the expensive move from Lille in 2020, scoring just 10 goals.
The 22-year-old has gone on to a blistering start this season, scoring 9 goals in 12 games.
Victor Osimhen is a central striker who plays as a lone frontman for Napoli in Luciano Spalletti's 4-2-3-1 formation.
He has also played in a 4-3-3 under previous Napoli manager Rino Gattuso. He is a traditional number 9.
In a conducted interview recently featuring the striker prior to his goal scoring form, he revealed that he had struggled to make ends meet.
Osimhen said;
"I remember when I was growing up, I was cleaning the gutters for 20 Naira, for my landlord and did some cleaning jobs for my neighbours close to my house, fetch water for 80 Naira."
"I found pleasure in doing these things because I believed they were important to me. I worked hard to get the money, and I believed it was important to me."
Napoli's head coach, Spalleti, has unreserved praise for the humble striker after he revealed he was lucky to have the Nigerian international in his team.
Osimhen is widely known for his agility, speed, focus, and self-driven attitude.
Victor Osimhen Biography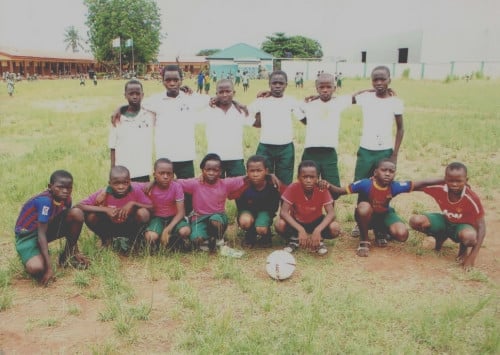 Victor James Osimhen, born on the 29th of December, 1998 to his late mother and father, Elder Patrick Osimhen, in the city of Lagos, Nigeria.
He was the last of six children born to his lovely parents.
He's 22 years of age and his height is 1.86 m (6 ft 1 in). A Nigerian professional footballer who plays as a striker for Serie A club Napoli and the Nigeria national team.
Born into a poor family background, Victor Osimhen grew up with the support of his elder brother Andrew, who had abandoned school ambitions to sponsor Osimhen's schooling.
To assist his brother in lifting the burden, Osimhen started hawking to help further his education.
Although Victor Osimhen had shown tendencies to have football skills at a very young age, he started learning from his elder brother Andrew, who played in their community as Osimhen would go along with him to watch him play.
Osimhen's love for the ball grew gradually as he was fond of Chelsea's Drogba and a fan of the club itself.
He often sees himself as Drogba and wished to be like the Ivorian.
Victor Osimhen's footballing talent could not be hidden or denied, and this made it possible for his family to support him in the best possible way, hoping that the dreams he had might come true, helping him in the best possible way.
His brother Andrew, despite abandoning his education for his younger brother, had to let go of football dreams too, due to the obvious fact that Victor, although younger, was better at football. He then continued to work in order to help build his younger brother's professional career.
Luckily, amidst all these preparations, Osimhen was discovered by some scouts who picked him for the Ultimate Strikers Academy before he was discovered by Nigeria's Golden Eaglets under-17 head coach, Amuneke.
On his debut at international level, Osimhen bagged a brace at the under-17 FIFA World Cup.
He scored ten goals in the competition, winning the competition's golden boot as well as claiming the silver ball for the tournament.
READ MORE: Ahmed Musa Bio, Football career, Net-worth
Osimhen Football Career
Victor Osimhen's technical abilities can not be denied as well as his clinical finishes in front of goal.
This has earned him different accolades. A remarkable moment for the Nigerian came when he was awarded the African Young Best Player in January, 2016 as the 2015 year's deserving awardee after his pivotal role in clinching the trophy for Nigeria.
His career began with a Lagos-based club in Nigeria. The name of the club is the Ultimate Strikers Academy, located at No. 8 Anisere Cl, Ojota, Lagos.
VfL Wolfsburg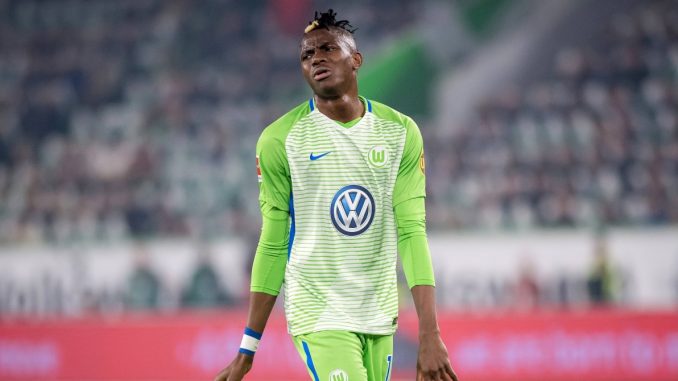 Victor Osimhen started off his career at VL Wolfsburg after he announced officially himself that he would be playing for the Bundesliga side in 2017.
In the first half of the 2017–18 season, Osimhen was picked for 12 out of 17 matchday squads, and he participated in 5 games.
On 28 January 2018, he made his complete Bundesliga debut against Hannover, playing the full 90 minutes in a 1–0 victory.
Victor Osimhen made two more starts for the rest of the season, starting against Werder Bremen on 11 February and was replaced at halftime by Daniel Didavi against Hertha Berlin on 31 March.
Wolfsburg was once again in the relegation playoff, but Osimhen was ruled out due to injury.
Osimhen suffered shoulder surgery on May 2nd, terminating his season with 12 Bundesliga games.
Victor Osimhen later departed Wolfsburg for Charleroi after suffering a series of injuries with Wolfsburg and Belgian teams Zulte Waregem and Club Brugge, the defending champions.
However, his physical condition had been harmed by a summer spell of malaria, and neither club agreed to loan him out.
Charleroi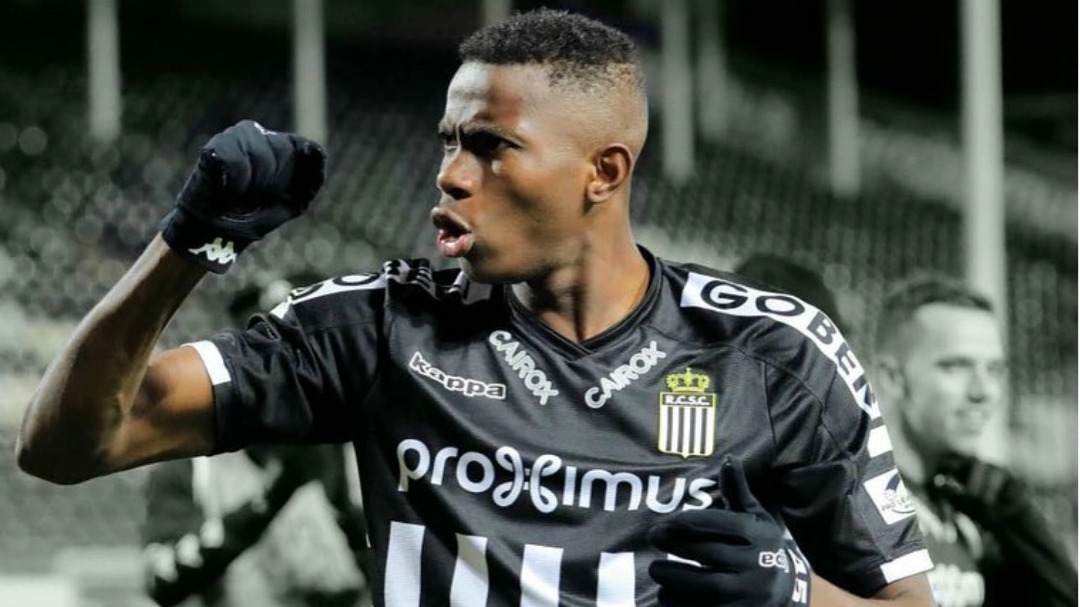 Osimhen joined Belgian club Charleroi on a season-long loan on August 22, 2018, after failing to score in any of his 16 outings for Wolfsburg.
Osimhen made his debut on 1 September against Excel Mouscron, entering as a late substitute for Jérémy Perbet. Osimhen made his full debut on 22 September, scoring his first goal as a professional with a backheel against Waasland-Beveren.
Lille FC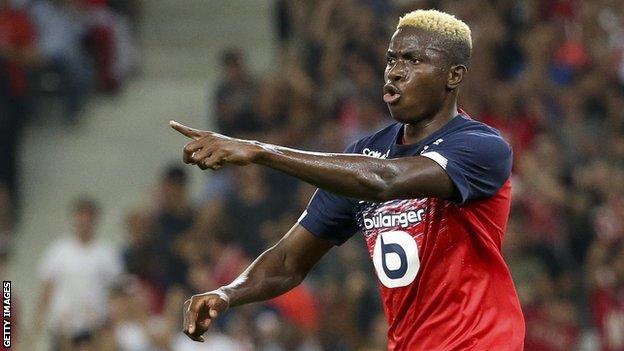 Victor Osimhen joined Lille OSC in July 2019. On 11 August 2019, he made his Ligue 1 debut for the club, scoring a brace in a 2–1 win against Nantes.
On June 2nd 2020, he was awarded Lille's Player of the Season, having secured the highest number of votes from fans.
Victor Osimhen's first goal in the Champions league was against Chelsea in 2019 in a 2-1 home defeat. Went on to score 13 goals in 25 league matches for Lille in only 25 games and 18 in all competitions.
Osimhen then was awarded the player of the season for Lille.
Napoli FC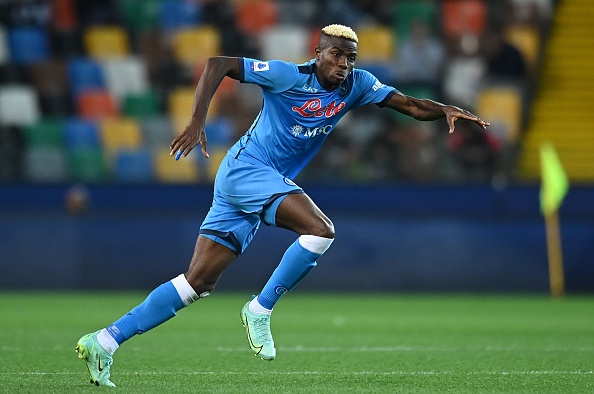 Napoli signed Osimhen for a club record of €70 million in the summer of 2020. He eventually scored his first goal in a 4-1 win against Atalanta.
His first season at the club was punctuated by injuries, but it was clear that he was a player who would explode sooner or later.
And that is what happened at the start of the 2021-22 campaign.
The Nigerian is able to play with both his back to goal and on the edge of the offside trap.
He is just as capable of holding the ball up and bringing others into play as he is with making intelligent runs behind the defence to get onto the end of through balls.
Victor Osimhen's temperament has also been a problem at times and he was sent off during Napoli's first game of the 2021-22 season for striking an opponent in the face.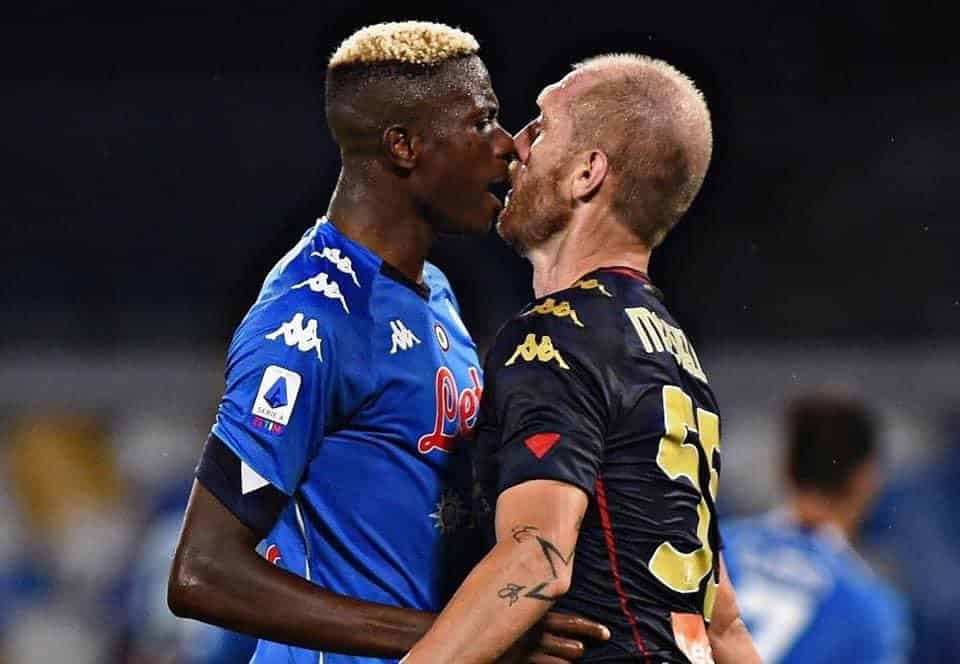 He also had caused trouble on number of occasions the most memorable when he broke the coronavirus protocols in a trip back to Nigeria in 2020.
International Career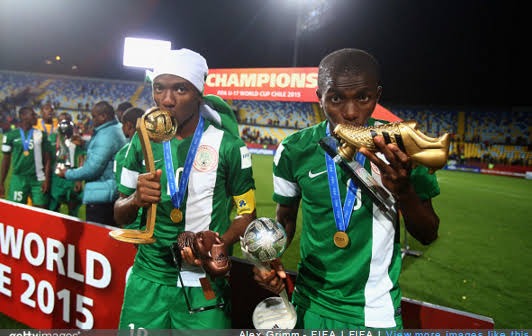 Victor Osimhen at the international level started off with explosive abilities at the Under-17 World Cup under the tutelage of Emmanuel Emenike.
Osimhen was nominated to the Nigerian under-17 side that won the 2015 FIFA U-17 World Cup in Chile, where he was awarded the Golden Boot and Silver Ball.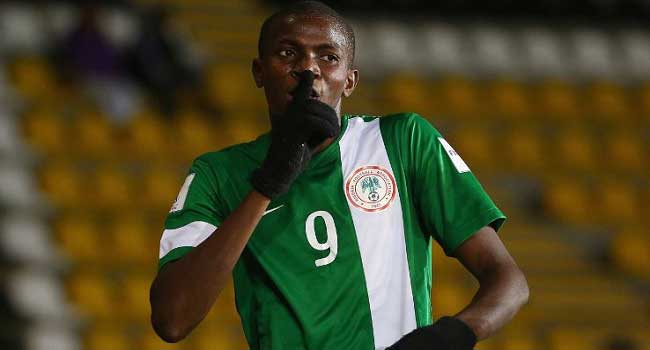 At the international level, Victor Osimhen started off with explosive abilities at the Under-17 World Cup under the tutelage of Emmanuel Emenike.
With a brilliant goal return, having played 19 games with the Super Eagles, Osimhen has scored 10 goals.
Prior to his inconsistency at Wolfsburg, his inconsistency had resulted in his exclusion from Nigeria's 2018 World Cup squad.
Victor Osimhen was removed from the Super Eagles team in March 2019 to represent the Nigerian U23 side, who were trailing their Libyan opponent by two goals.
In the rematch against Libya in Asaba, he scored three goals.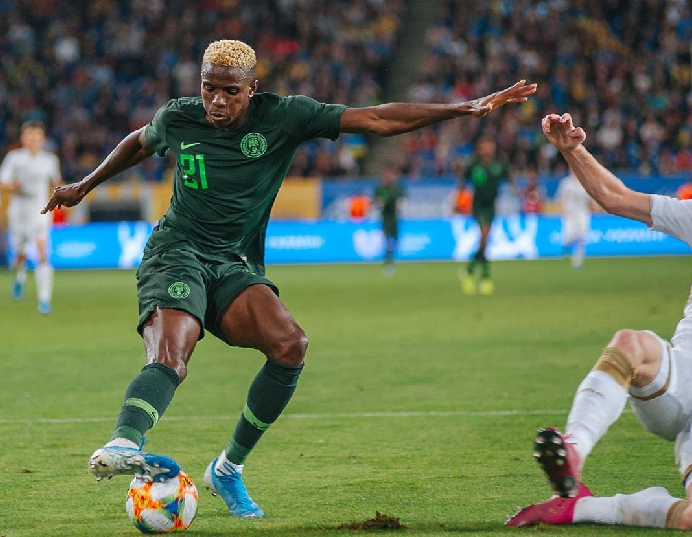 Gernot Raul later invited him to the November 2018 international break in a win over Uganda.
And since then, Osimhen has been a vital part of the Nigerian national side, preferred to the striking role ahead of the likes of Paul Onuhachu and Kelechi Iheanacho.
With his outstanding match for the Super Eagles side yet to come in a friendly game against Ukraine, where the forward's pace and agility have caused the Ukrainians all sorts of problems.
Although the team's performance wasn't up to par, his teamwork and dedication earned him a deserved goal in a scintilating match.
Victor Osimhen Net Worth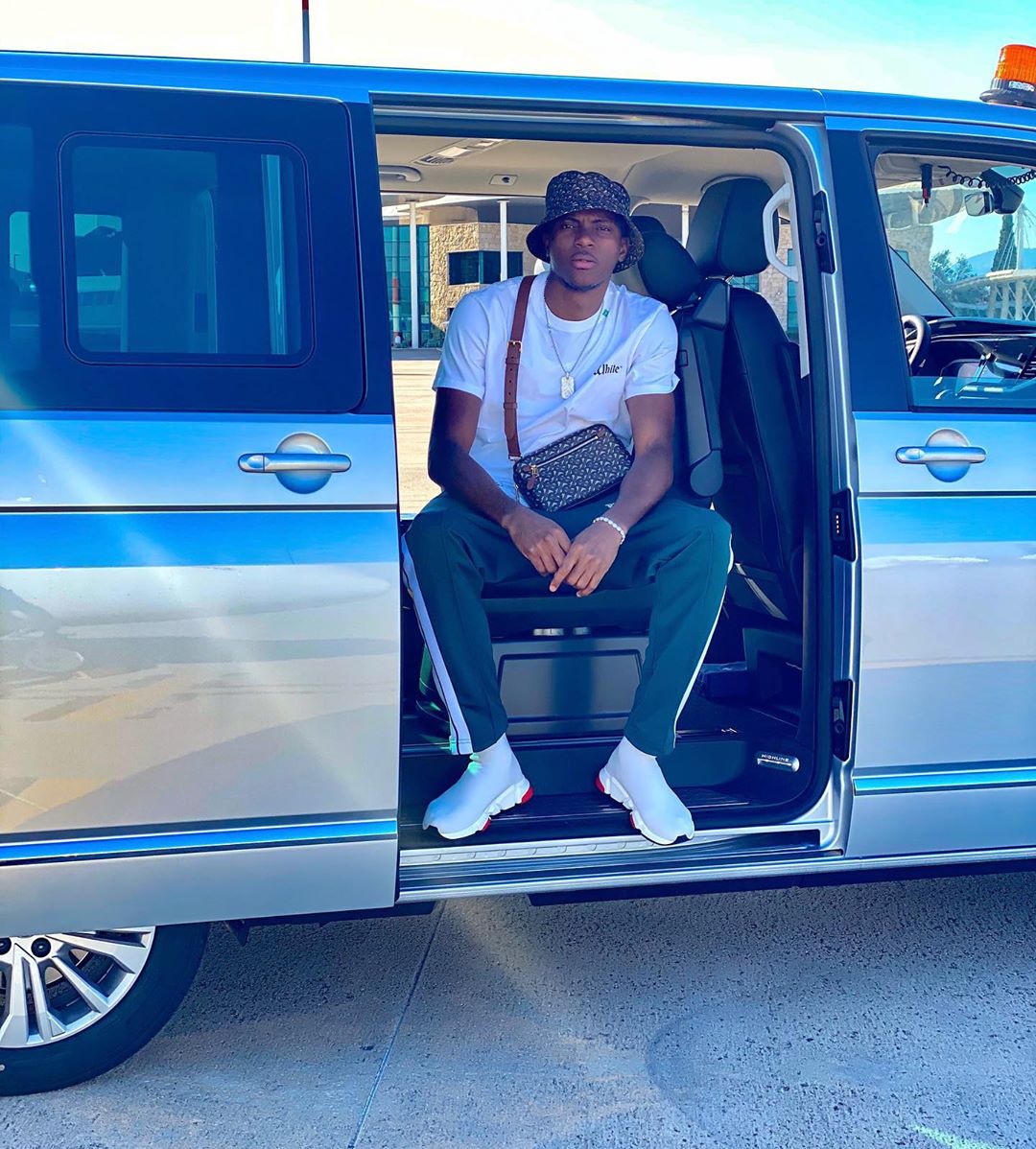 Victor Osimhen has a net worth of $30 million. Osimhen signed a contract with SSC Napoli in 2020, which would pay him a massive 5 million euros (4.6 million pounds) every year.
According to calculations, he makes €24,787 (£22,729) every day and €1,033 (£947) each hour.
His net worth and current value are currently 27 Million Euros (24.8 Million Pounds), and he has been tagged with a 70 Million Euro (64.2 Million Pound) price due to his explosive form in Seria A this season.
According to reports, Osimhen is allegedly living with his girlfriend, but nothing is clear yet as there have been no photos or anything suggesting that that may be the case.
Victor Osimhen is possibly single & has not been previously engaged.
We might as well conclude that at the moment he's single or trying to keep his relationship off the media's radar.
Victor Osmhen would like to hope that he can maintain his blistering form for the duration of the 2021/22 Seria A season.